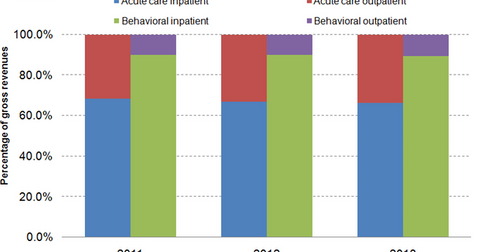 Assessing Universal Health Services' revenue mix and admissions
By Margaret Patrick

Updated
Revenue mix
The healthcare industry, represented by Healthcare Select Sector SPDR (XLV), has been adopting the outpatient mode of providing medical services in an attempt to lower costs while providing efficient services. Since 2011, major for-profit hospital operators such as HCA Holdings (HCA), Universal Health Services (UHS), Community Health Systems (CYH), and Tenet Healthcare (THC) have witnessed growth in the contributions of outpatient revenues to their total revenues.
Article continues below advertisement
The above graph shows the breakdown of inpatient and outpatient revenues in Universal Health Services' acute care services and behavioral health services segments. The share of inpatient revenues in the gross acute care services revenues declined from 68.4% in 2011 to 66.4% in 2013. A similar trend took shape in behavioral health services revenues. Inpatient revenues declined from 90.1% to 89.4% in the same timeframe. You can attribute this trend to decreasing hospital admissions and emergency visits for substance abuse, as healthcare providers are equipped to provide these services at outpatient centers.
Admissions
Same-facility inpatient admissions in the acute care service segment increased 0.2% in 2013 as compared to 2012. Equivalent admissions, which measure combined inpatient and outpatient admissions, increased by 2.2% in the same timeframe. Same-facility inpatient admissions and equivalent admissions in the behavioral health services segment increased by 3.2% and 3.5%, respectively, from 2012 to 2013.
The Affordable Care Act (or ACA) specifies that coverage for mental health and substance abuse treatment must be included in healthcare insurance plans sold on public health exchanges. Plus, the Mental Health Parity and Addiction Equity Act of 2008 requires coverage for mental ailments to be equivalent to that for physical ailments. Increased coverage for mental ailments is expected to boost Universal Health Services' admissions, leading to higher profits.