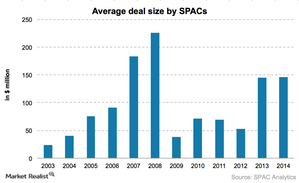 AQR Capital starts Collabrium Japan Acquisition Corp. position
By Diana Key

Jan. 23 2015, Updated 8:06 a.m. ET
Collabrium Japan Acquisition Corp.
In the fourth quarter of 2014, AQR Capital Management initiated a position in Collabrium Japan Acquisition Corp. (JACQU). A 13G filing in December 2014 noted that the fund owns 693,000 shares, with a passive stake of 12.38% in the company.
Article continues below advertisement
About Collabrium
Incorporated in the British Virgin Islands in February 2012, Collabrium Japan Acquisition Corporation is a blank check company. A blank check company is created for a number of purposes, including mergers and acquisitions, as well as share exchange, reconstruction, and amalgamation. Blank check companies are also known as special purpose acquisition companies (or SPAC).
Focused on Japanese acquisition
Collabrium is not limiting its target specifications to any particular industry or geographic region. However, it intends to focus on companies that have primary operations in Japan. Otherwise, if the target company operates outside Japan, the company believes that it should have Japanese ownership.
Article continues below advertisement
NASDAQ listing
On November 12, 2014, Collabrium received a notice from the NASDAQ Hearings Panel, stating that the panel granted the company's request to continue its listing on NASDAQ. In its filing, NASDAQ stated, "The Panel's decision is subject to certain conditions, including that, on or before February 24, 2015, the company complete a business combination and receive from the NASDAQ staff a determination that the business combination will meet all initial listing criteria for listing on the NASDAQ Stock Market."
Failure to comply with these conditions could result in the delisting of Collabrium's securities from NASDAQ.
Raised $40 million through IPO
Collabrium closed its initial public offering (or IPO) on October 24, 2012. It sold 4,000,000 units at an offering price of $10.00 per unit. Each unit consisted of one share of common stock and one warrant. Each warrant entitled the holder to purchase one share of the company's common stock at a price of $11.50 per share. The company generated net proceeds of $39.4 million. The proceeds, which are deposited in a trust account, will be used to fund the business combination.
As of August 31, 2014, Collabrium had approximately $15.3 million in cash, including ~$15.3 million in its trust.
According to US Securities and Exchange Commission (or SEC) regulations, if a blank check company is unable to complete an acquisition within 18 months after the effective date of the company's registration statement, the funds held in the trust or escrow account are returned to investors.
The latest data from SPAC Analytics indicated that in 2014, 12 blank check companies raised $1.75 billion. This was the highest level since 2008.
AQR Capital's 13G positions
AQR Capital Management initiated positions in Hemisphere Media Group. (HMTV). The fund also initiated positions in blank check companies Levy Acquisition Corp. (LEVYU) and Collabrium Japan Acquisition Corp. (JACQU).
AQR Capital reduced its positions in blank check companies Chart Acquisition Corp. (CACGU), and Capitol Acquisition Corp. II (CLACU).
In the next part of this series, we'll explore AQR Capital's position in blank check company Chart Acquisition Corp.