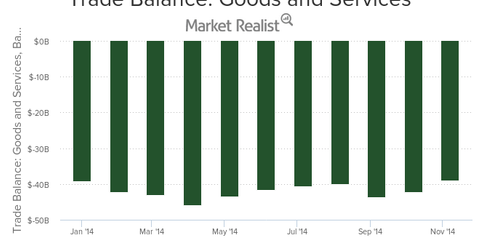 Why the appreciating dollar weakens net exports
By Surbhi Jain

Jan. 19 2015, Updated 3:55 p.m. ET
Business investment
Business investment in plant, equipment, and intellectual property has been a solid contributor to expansion in the US. Business investment gradually picked up its pace after the US recovery. It managed to gather good momentum by the end of 2014. In the US, the business landscape (SPY) (IVV) seems favorable for more investments. Investors can expect the momentum to continue in the short to medium term.
Business investments' momentum is reflected in the performance of industrial ETFs—like the SPDR Dow Jones Industrial Average ETF (DIA), the SPDR Industrial Select Sector Fund (XLI), and the First Trust Industrials AlphaDEX Fund (FXR).
[marketrealist-chart id=208261]
Article continues below advertisement
Potentially weaker net exports
Over the past year, the value of the dollar in foreign exchange markets increased by 8%. This hampered US exports. Dollar appreciation also made imports more attractive. As a result, it made domestic producers less competitive globally. Foreign goods flooded the consumer markets.
The weakness in net exports can lead to a wider trade deficit in the US. It can also slow the growth of overall economic production. As a result, strengthening net exports will likely be more of a challenge in the near term.
Decline in government spending
Tight fiscal budgets led to constraints. This restricted growth in the US. Overall, the federal government's spending on goods and services was subdued. It fell at an average rate of 2.5% over the past three years. Federal spending on goods and services directly adds to the gross domestic product, or GDP—unlike transfer payments like Medicare or food stamps. Transfer payments only contribute to GDP through higher disposable income.
The three challenges discussed above are the main challenges for economic growth in the US. However, inflation hasn't met the Federal Reserve's target. This is another concern—especially from a monetary policy and normalization perspective.