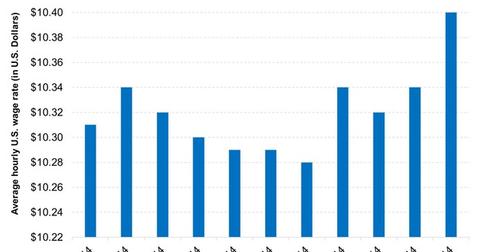 Anemic Job Growth And Weak Wage Growth Haunt The Labor Market
By Rick Rieder

Updated
4. Skills/Jobs Mismatches:
The pace of recovery in the jobs market has been highly uneven among sectors and in different demographic groups. Specifically, sectors such as financial (XLF), real-estate-related (IYR) and state and local government have seen anemic jobs growth, while others have experienced better conditions. At the same time, there has been a sharp distinction between those with college degrees and those without, with the former group finding new employment much more quickly. It is extremely difficult to shift large numbers of workers from one industry to another, or to quickly retrain or educate those who are out of work—factors that are holding back the pace of job creation.
Article continues below advertisement
Market Realist – Weak wage growth is another structural issue with the labor market
Another structural issue with the labor market is that the wage growth remains weak. The graph above shows the average hourly wage rate in the US in 2014. The wage rate in the US was $10.31 in January 2014, compared to $10.4 in November 2014. This is not even a 1% increase in 11 months. However, wage rates did pick up in November. Meanwhile, wage rates in the manufacturing sector (XLI)(DIA) have been healthy, at close to $20 per hour.
Although other economic indicators like the GDP (gross domestic product) and payrolls have been improving, wage rates in the US have remained low. The US, however, is ahead of the rest of the developed world (EFA) in terms of economic recovery. However, wage growth remains low in both the US and other developed markets
Consumption could remain subdued until wage growth picks up meaningfully. Wage rates have a direct impact on disposable income and by extension, consumption. Consumption is an important part of the GDP, as it makes up ~70% of the GDP.