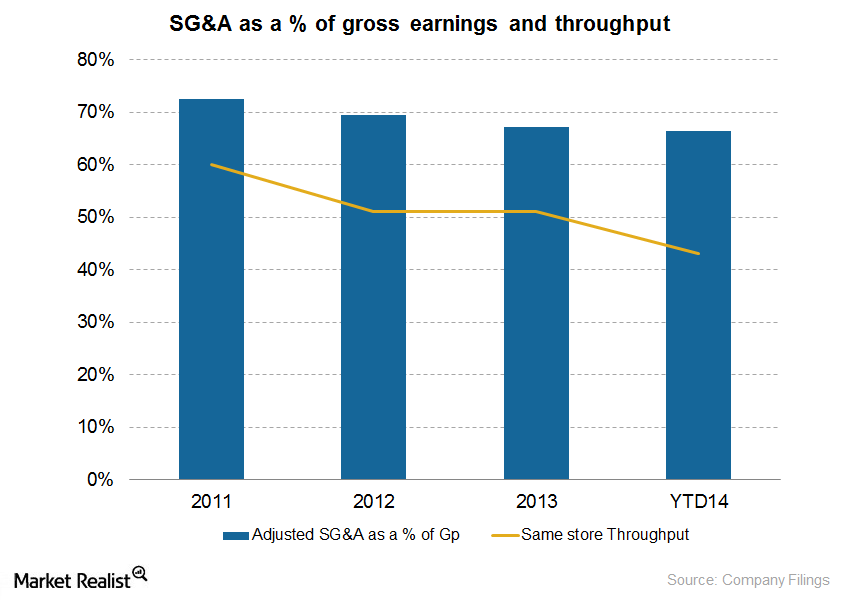 Analyzing Lithia's throughput contribution and earnings
By Santiago Solari

Jan. 23 2015, Updated 3:30 p.m. ET
Gross profit
In the nine months ending September 30, 2014, Lithia's (LAD) gross profit increased by $91 million from the nine months ending September 30, 2013. Lithia's gross profit of $562 million is in line with the company's revenue growth. The company's selling, general, and administrative (or SG&A) expenses increased by 18.8% year-over-year (or YoY) to $378.9 million, driven by higher variable costs associated with the increased sales volume and store count.
Excluding certain nonrecurring charges such as a litigation reserve expense of $3.9 million and $1.1 million related to acquisition expenses, adjusted SG&A adds up to $373.9 million. This is an 18.6% increase from the comparable number from the prior year.
Adjusted SG&A as a percentage of gross profit remained relatively flat at 66.5% in the nine months ending September 30, 2014. Lithia's adjusted SG&A remains the lowest among its peers: Autonation (AN), Asbury Automotive Group (ABG), Group 1 (GPI), Penske (PAG), and Sonic Automotive (SAH).
Article continues below advertisement
Throughput contribution negatively impacted
Throughput contribution, or the incremental percentage of retained gross profit (gross profit less SG&A), was 33.8% in the nine months ending September 30, 2014, compared to 44.2% a year ago. Throughput also measures the leverage of Lithia's cost structure, with a greater ratio implying lower variability in Lithia's operating earnings.
Because throughput contributions for newly opened stores reduce a company's overall throughput in its early years, a same-store comparison would be more meaningful. Adjusting for 13 newly acquired stores and two new stores that opened in 1Q14, Lithia's throughput contribution was 43.2% in the nine months ending September 30, 2014, versus 50% a year ago. It was below the target of 50% as well. This decline was largely due to a lower used vehicle gross margin and increased selling costs.
Lithia's income from operations in the nine months ending September 2014, was $165.9 million, up from $137.9 million in the previous year. Plus, net income increased 21% YoY to $94.4 million for the nine months ending September 2014.
Share repurchase activity and 4Q14 guidance
During 3Q14, approximately 161,000 Lithia (LAD) shares were repurchased at a weighted average share price of $69 per share. Close to 1.5 million shares remain available for repurchase in its current program. In conjunction with the 3Q14 results, management announced a dividend of $0.16 per share to be paid out in cash on December 5, 2014.
Management lowered its projections for the 4Q14 diluted earnings per share to be in the range of $1.17–$1.19 compared to its earlier guidance of $1.23–$1.26 per share. This was mainly due to the slide in used vehicle prices, which is set to recover in 2015.