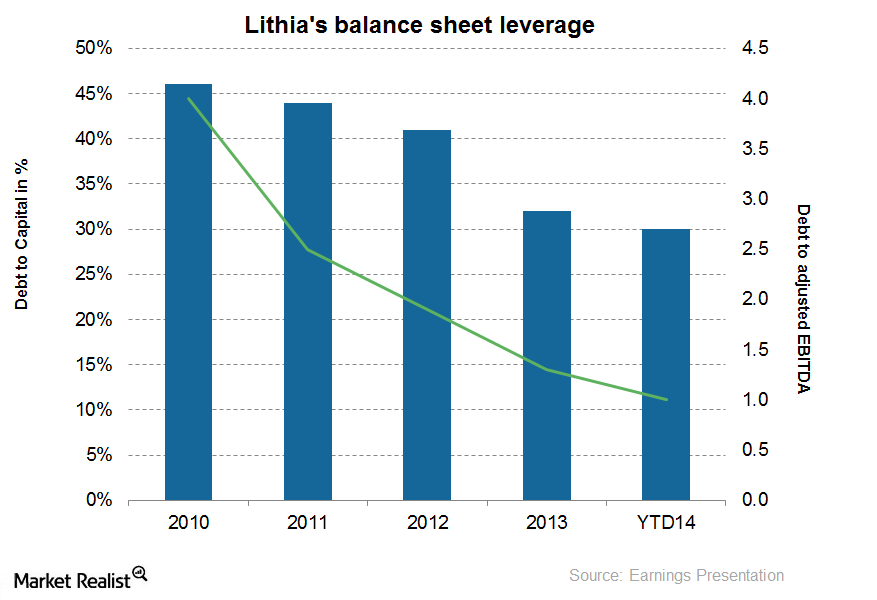 Analyzing Lithia Motors's leverage and liquidity profile
By Santiago Solari

Jan. 23 2015, Published 3:21 p.m. ET
Leverage and debt level remain manageable
Earlier in this series, we looked at Lithia's businesses and the impact of its DCH Auto Group acquisition. Let's explore Lithia's important balance sheet metrics and its capital allocation strategy.
As of September 30, 2014, Lithia has interest-bearing liabilities of ~$1.0 billion, of which $769.6 million is related to floor plan notes payable, $237 million in real estate mortgages, and $30 million in used vehicle financing liabilities. Floor plan financing facilities allow dealerships to buy new and used vehicles on credit from either captive financing divisions of automobile manufacturers or collateralized floor plan borrowings from non-trade lenders.
Article continues below advertisement
Leverage
Auto retailers such as Lithia (LAD), Autonation (AN), Penske (PAG), Sonic (SAH), and Group 1 (GPI) make use of such facilities to support their operations. Upon completion of a vehicle sale, auto retailers retain the profit and settle their fees to floor plan lenders. For our analysis of the company's leverage, we excluded floor plan debt from debt calculations.
As seen in the above chart, Lithia reduced its leverage, or adjusted debt to earnings before interest, tax, depreciation, and amortization (or EBITDA). Its leverage went from a high of 4.0x in fiscal 2010 to 1.0x as of the latest balance sheet date. Debt to capital also declined steadily during the period, from 46% in fiscal 2010 to 30% as of the nine months ending in September 2014. The company is expected to raise $130 million in real estate debt in 4Q14, which would increase its leverage to 2.2x. However, Lithia's leverage should be below the target leverage of 3x or less.
Lithia ready for future acquisitions
In preparation for the DCH Auto Group acquisition, Lithia upsized its working capital line by $700 million to $1.7 billion on October 1, 2014. Lithia's available funding sources included cash and cash equivalents of $22 million, an available balance of $167 million on its working capital line, and $96 million in estimated liquidity from unfinanced real estate. This provides the company with total liquidity of $285 million, which is considered to be ample given that there are no near-term sizable debt maturities.
The combined entities of Lithia Motors and DCH Auto Group are expected to generate free cash flow of $135 million in 2015. If Lithia Motors intends continue its acquisition activity, as well as increasing returns to shareholders through dividend payments and share repurchases, it should have more than adequate capability to support it.