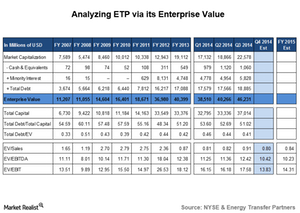 Why Energy Transfer Partners' enterprise value is encouraging
By Manas Chowgule, CFA

Dec. 4 2020, Updated 10:53 a.m. ET
What is enterprise value?
So far, we've discussed Energy Transfer Partners' (ETP) financial statements objectively. Now, let's start looking at its metrics subjectively.
First up, let's analyze its enterprise value (or EV), the "complete" value of a company including the market value of its equity (market capitalization) and its net debt (debt less cash).
Think of a company's EV as the minimum amount you'd be on the hook for if you decided to take over the entire company.
Article continues below advertisement
Energy Transfer Partners' EV
Energy Transfer Partners' enterprise value more than quadrupled between 2007 and 3Q14. This resulted from a combination of its rising market capitalization and a build in its debt, far outstripping growth in its cash levels.
But you should note that almost $6 billion of this enterprise value is "minority interest," or the book value of equity that Energy Transfer Partners doesn't own in its affiliate companies. This is an accounting necessity in order to ensure accuracy while analyzing various EV ratios.
While Energy Transfer Partners enterprise value currently stands at ~$49 billion, MLP giant Enterprise Product Partners (EPD) clocks in at ~$85 billion and midstream industry leader c-corp Kinder Morgan (KMI) weighs in at $140 billion. ETP's general partner—Energy Transfer Equity LP (ETE)—currently has an EV of ~$78 billion.
EPD is the Alerian MLP ETF's (AMLP) largest holding, at 10%, while ETP is its third-largest holding at ~8%.
EV Ratios
Energy Transfer Partners has seen its total capital swell almost six times in the last seven years. It went on an acquisition and growth spending spree. But this capital expansion has occurred evenly across debt and equity.
So, while ETP's debt-to-EV has remained fairly stable near the 0.4 mark, its debt-to-capital actually shows a mild downward bias. You'll find more on this later in this series.
Finally, let's look at its valuation metrics. Energy Transfer Partners has been trading near 11x its EBITDA over the years. Looking at its 2015 EV/EBITDA and EV-to-sales numbers over the years, it looks like the company still has some growth momentum going.