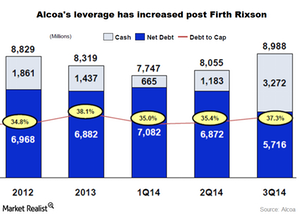 Alcoa's Leverage Ratio Misses The Mark
By Mohit Oberoi, CFA

Dec. 4 2020, Updated 10:53 a.m. ET
Alcoa's leverage ratios
Article continues below advertisement
Debt-to-capital ratio
The chart above shows Alcoa's (AA) debt-to-capital ratio. As you can see, Alcoa's leverage ratio has increased over 2Q 2014. This basically means that the proportion of debt in Alcoa's capital structure has increased. Increasing debt levels are generally regarded as a sign of riskiness in a stock.
Alcoa management intends to keep the debt-to-capital ratio between 30% and 35%. The current ratio stands at 37.3%, which is more than management's guidance. Apparently, Alcoa missed its own goal.
Rising leverage ratios have impacted Alcoa's credit ratings. The company's cost of raising funds for the Firth Rixson deal went up as a result of this.
Potential risk?
Higher leverage ratios could be a potential risk for Alcoa. Interest payments are contractual liabilities that a company has to pay. If economic conditions worsen in 2015, higher interest payments could be a strain on Alcoa's finances. In economic downturns, profitability comes down while interest costs don't change. This can have a spiral effect on the financial performance of an enterprise.
Century Aluminum (CENX) has one of the lowest leverage ratios among aluminum plays. Lower leverage ratios give Century a lot of legroom to expand its business. Currently, this company is a part of the SPDR S&P Metals and Mining ETF (XME).
Please visit Market Realist's industry page to learn more about the sector.