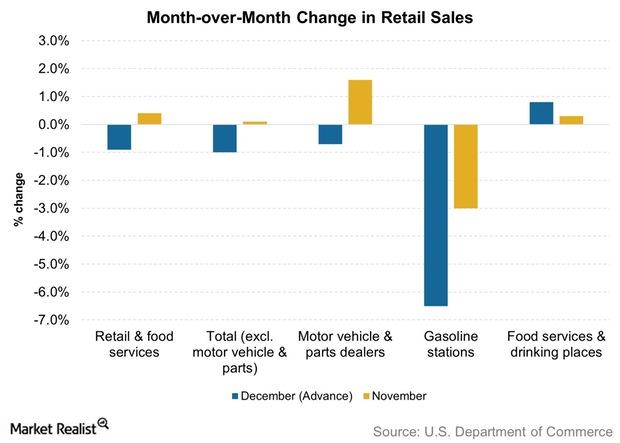 Advance retail sales for December 2014 were disappointing
By David Ashworth

Dec. 4 2020, Updated 10:52 a.m. ET
Advance retail sales were disappointing
Markets were disappointed by the weak retail sales report. Estimates for advance retail sales were $442.9 billion in December 2014. This was 0.9% lower than November 2014. It was 3.2% higher than December 2013. The monthly decline in December 2014 was the biggest since January 2014. These estimates are adjusted for seasonal variations and holiday and trading day differences. The estimates aren't adjusted for price changes.
Article continues below advertisement
Even lower gasoline prices didn't lead to more buying. A fall in retail sales advanced the view that economic growth is slowing because consumer spending makes up ~70% of the gross domestic product, or GDP. This isn't good news for investors in ETFs like the Consumer Discretionary Select Sector SPDR Fund (XLY) and the Consumer Staples Select Sector SPDR Fund (XLP).
The report is also keenly awaited by broad-based equity ETFs—like the SPDR S&P 500 ETF (SPY), the SPDR Dow Jones Industrial Average ETF (DIA), and the iShares Core S&P 500 (IVV).
Excluding motor vehicles and parts, retail sales fell 1% from November. Meanwhile, November sales were revised downwards. The rise in retail sales was reported earlier as 0.7%. It was revised down to show a 0.4% increase.
Auto sales fall
Motor vehicle and parts dealers saw sales fall 0.7% in December 2014. Their November sales were revised down marginally to show a 1.6% increase—instead of 1.7% reported earlier. However, the monthly fall was still lower than the falls reported by some of the other categories. Gasoline stations' sales contracted by 6.5% in December. They fell by 3% the previous month. This was revised downward from a 0.8% fall reported earlier. Food services and drinking places reported a 0.8% rise in monthly sales. They reported a 0.3% rise last month.
Department stores' sales—excluding leased departments—fell 0.2% in December 2014. They increased by 0.8% the previous month. This was reduced from a 1% rise reported earlier.
Retail sales in the 12 months to December 2014 were up 4%—compared to the same period in 2013. Excluding auto sales, retails sales are up 3% from a year ago. Motor vehicle parts and dealers' sales were up 8.1% from 2013. Health and personal care stores grew 6.1% in 12-month sales from 2013.
Department stores—excluding leased departments—lagged other businesses in this period as well. Their sales were down 2.1% from 2013.