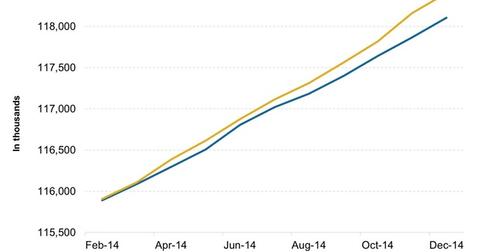 ADP report shows private sector payrolls remain strong
By David Ashworth

Updated
ADP reports show increase in private sector jobs
ADP's National Employment Report (or NER) showed that the private sector added 241,000 jobs in December 2014. Job additions for November were upwardly revised to show an increase of 227,000 from 208,000 reported earlier. October additions were upwardly revised to 242,000 jobs from 233,000 previously reported.
The report is produced by ADP in association with Moody's Analytics. ADP's actual payroll data are used to prepare this report, which assesses the seasonally adjusted change in total nonfarm private employment. ADP releases this report on a monthly basis.
Article continues below advertisement
Key takeaways
The NER showed that per company size, small businesses (1–49 employees) were the largest recruiters, adding 106,000 jobs in the month. These companies added 101,000 jobs in November. Medium business (50–499 employees) and large businesses (500+ employees) followed with additions of 70,000 and 66,000 jobs compared to 65,000 and 42,000 additions in November, respectively.
Service-providing companies were responsible for nearly 80% of the total jobs added for the month. The remaining 46,000 came from goods-producing companies.
According to the NER's industry classification, professional and business services added 69,000 jobs. Following it was trade, transportation, and utilities, which added 44,000 jobs in December.
Why is it important?
The ADP NER gives an early flavor of what the nonfarm payrolls may look like. Keep in mind, though, that the nonfarm payroll report has a wider base. The NER only gives you an idea of the hiring activities in the private sector.
A pickup in hiring activity shows an underlying strength in the economy. Companies will begin hiring only if they see an upswing in the goods they produce or the services they offer.
This report affects industrials-related ETFs (XLI) (FXR), materials-related ETFs (XLB) (ITB), and large-cap ETFs (SPY) (DIA) (IVV).
In the next article, we'll see how the US trade balance fared for November 2014.