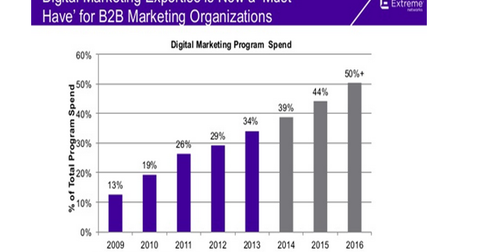 Why Adobe is focusing on its Marketing Cloud segment
By Anne Shields

Jan. 21 2015, Updated 4:08 p.m. ET
Chief marketing officers will hold the key to marketing spending
With each passing day, marketing is becoming increasingly technology based. Harnessing and mastering big data is quickly becoming accepted as the key to achieving competitive advantage in the SMAC (social, mobile, analytics and cloud) revolution. Also, marketing budgets are growing faster as compared to IT budgets. Based on these reasons, Gartner analyst Laura McLellan believes that chief marketing officers (or CMOs) will spend more on IT than their counterpart chief information officers (or CIOs) by 2017.
It's no wonder Adobe (ADBE) is so focused on adding enhanced features and updates to its marketing cloud suite to benefit from this high growth market segment.
Adobe's growth not only benefits Adobe investors but also ETFs like the Powershares QQQ Trust ETF (QQQ) that have high exposure to Adobe.
Article continues below advertisement
Digital marketing is driving business growth
With the rapid changes in the technology sector, the business landscape has shifted. The market trends show that it is no longer the marketing that drives the business growth. It's the digital marketing that is driving business growth. In the current market scenario, technology and marketing are so inextricably entwined that future success is dependent on the creation of a cross-functional organization.
As the above chart shows, industry analysts expect a consistent increase in the digital marketing spending in the future. Also, digital marketing is a requisite expertise for business to business (or B2B) organizations. Leading enterprise vendors like Oracle (ORCL), IBM (IBM), and SAP AG (SAP) are way behind Adobe and Salesforce in enterprise marketing software suites, despite several attempts to woo thousands of marketers with automated ways of attracting and serving customers using their software.
According to a recent report by Gartner's research, on average, approximately a third of marketing-related technologies and services are purchased by marketing. Moreover, marketing influences almost half of all purchases.
Marketing is the fastest growing segment in the enterprise software market
According to Forrester, marketing technology is one of the fastest-growing areas of the the global enterprise software market worldwide. This market is currently valued at approximately $1 trillion, wherein CMOs are increasingly dominating the spending.