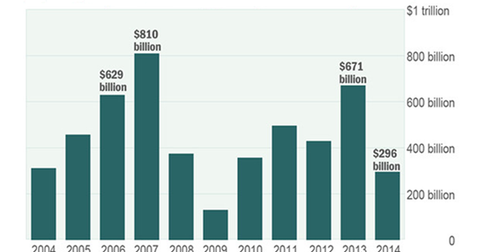 Why Adobe continues its share buyback policy
By Anne Shields

Updated
Share buyback program
In January 2015, Adobe (ADBE), with a market cap of $435 billion, authorized a stock buyback program of up to $2 billion over the next three years. Adobe's earlier buyback authorization program of $2 billion has already been exhausted. The company doesn't pay dividends.

Article continues below advertisement
The technology sector is known for rewarding its shareholders with share buybacks
As the above chart shows, 2014 saw some of the biggest share buyback announcements from leading corporations, including Apple Inc. (AAPL), Intel Corporation (INTC), Wells Fargo (WFC), Caterpillar Inc. (CAT), and Monsanto Company (MON). Each of these buybacks totaled $10 billion or more. Overall, 2014 buybacks are expected to be the best since 2007 and 2013.
Cash, cash flows, and debt position
As of November 28, 2014, Adobe generated a free cash flow (or FCF) of $914 million. The company holds cash reserves worth $1.17 billion and has a total debt of $1.514 billion. Adobe's cash flow from operations (or CFO) grew to $400 million. Adobe's deferred revenue grew by $274 million to reach a record $1.155 billion. In 4Q14, Adobe bought approximately 1.8 million shares, returning ~$127 million cash to its shareholders.
As we'll see in a later part of the series, Adobe is reeling under the pressure of margin shrinkage. Although the company has decent cash reserves and low debt, its margins are yet to register an improvement, which leaves a strong likelihood that the company will assume debt to fund its share buybacks.