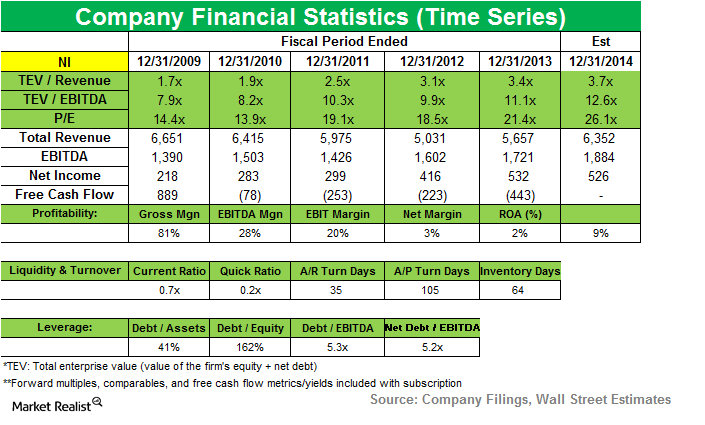 Adage Capital raises its position in NiSource
By Samantha Nielson

Nov. 27 2019, Updated 6:22 p.m. ET
Adage Capital and NiSource Inc.
Adage Capital raised its position in NiSource Inc. (NI) during the third quarter that ended in September 2014. The position accounted for 0.52% of the fund's total 3Q14 portfolio. The fund added 3,143,000 shares and raised its existing holding to 5,100,025 shares during 3Q14.
Article continues below advertisement
An overview of NiSource
NiSource Inc. (NI) is engaged in natural gas transmission, storage, and distribution, as well as electric generation, transmission, and distribution. Its operations are divided into the following three primary business segments:
Gas Distribution Operations segment. This segment provides natural gas service and transportation for residential, commercial, and industrial customers in Ohio, Pennsylvania, Virginia, Kentucky, Maryland, Indiana, and Massachusetts.
Columbia Pipeline Group Operations segment. This segment offers gas transportation and storage services for LDCs (least developed countries), marketers, and industrial and commercial customers located in northeastern, mid-Atlantic, midwestern, and southern states, along with unregulated businesses that include midstream services and development of mineral rights positions.
Electric Operations segment. This segment provides electrical service in 20 counties in the northern part of Indiana.
NiSource announces separation of pipeline business, creation of MLP
On September 28, 2014, NiSource announced that its board approved plans to separate its natural gas pipeline and related businesses into a stand-alone, publicly traded company. The separation will result in the following two highly focused energy infrastructure companies: NiSource, a fully regulated natural gas and electric utilities company, and Columbia Pipeline Group Inc. (CPG), a pure-play natural gas pipeline, midstream, and storage company. Columbia Pipeline Group will include Columbia Gas Transmission, Columbia Gulf Transmission, NiSource Midstream Services, and other current NiSource natural gas pipeline, storage, and midstream holdings.
NiSource also revealed that Columbia Pipeline Group will control a new master limited partnership named Columbia Pipeline Partners LP, which will raise $800 million through an IPO (initial public offering). The separation is expected to take place in mid-2015.
Article continues below advertisement
NiSource posts revenue and earnings growth
NiSource posted GAAP (generally accepted account principles) net income of $31.4 million, or $0.10 per basic share, for 3Q14, compared to net income of $48.1 million, or $0.16 per basic share, in the year-ago period. Total consolidated net revenues for the quarter were $893.4 million, a $59.6-million increase from the same period last year. NiSource said the revenue growth was driven by Columbia Pipeline Group Operations' net revenues of $35.0 million, higher Gas Distribution Operations' net revenues of $19.5 million, and increased Electric Operations' net revenues of $5.7 million.
Adage Capital's positions traded in 3Q14