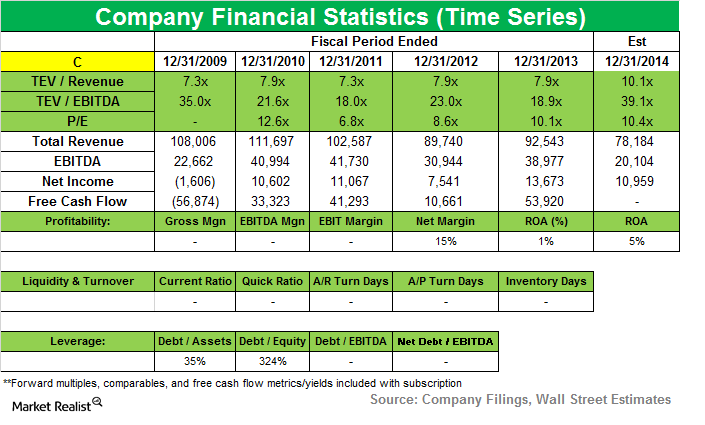 Citigroup gets raised position with Adage Capital
By Samantha Nielson

Nov. 27 2019, Updated 6:23 p.m. ET
Adage Capital and Citigroup
Adage Capital raised its position in Citigroup Inc. (C) during the third quarter that ended in September 2014. The position accounted for 0.98% of the fund's total 3Q portfolio. The fund added 2,507,700 shares and raised its existing holding to 7,617,788 shares during 3Q14.
Article continues below advertisement
Citigroup overview
Citigroup Inc. (C) is a global diversified financial services holding company whose businesses provide a broad range of financial products and services. Its services include consumer banking and credit, corporate and investment banking, securities brokerage, trade and securities services, and wealth management. Citi has approximately 200 million customer accounts and does business in more than 160 countries and jurisdictions.
For management reporting purposes, Citigroup operates through two primary business segments:
Citicorp. Consists of Citi's

 

Global Consumer Banking (or GCB) businesses and

 

Institutional Clients Group (or ICG).
Citi Holdings. Consists of businesses and portfolios of assets that Citigroup has determined are not central to its core Citicorp businesses.
Reaches $7 billion settlement over US mortgage probe
In July, Citi agreed to pay $7 billion to resolve an investigation by the US government into the bank's sale of mortgage-backed securities prior to the financial crisis.
Article continues below advertisement
Citigroup adjusts 3Q14 results on increase in legal accruals
Citigroup's 3Q14 net income rose 7% to $3.4 billion in the third quarter of 2014, from $3.2 billion in the prior year period. The increase was driven by higher revenues and a decline in credit costs. This increase in profit was partially offset by higher operating expenses, including legal and related costs. The higher expenses were partially offset by continued cost reduction initiatives and the overall decline in Citi Holdings assets.
Citigroup later adjusted downward its third-quarter 2014 financial results from those reported on October 14, 2014, "due to a $600 million increase in legal accruals." It said the "increase resulted from rapidly-evolving regulatory inquiries and investigations, including very recent communications with certain regulatory agencies related to previously-disclosed matters." The financial impact lowered Citi's third-quarter 2014 net income from $3.4 billion to $2.8 billion.
The company also said it expects to incur legal and related charges of approximately $2.7 billion and repositioning costs of approximately $800 million in the fourth quarter of 2014. Citi added that "with these items, it expects to be marginally profitable for the quarter."
Citigroup revenues of $19.6 billion in the third quarter of 2014 increased 9% from the prior year period. It saw higher revenues in both ICG and GCB and a 30% increase in revenues at Citi Holdings.
Article continues below advertisement
Will sell retail banking business in Japan to Sumitomo Mitsui Banking Corporation
Citi also announced strategic actions "to accelerate the transformation of GCB by focusing on those markets where it has the greatest scale and growth potential." It announced plans to exit its consumer businesses in 11 markets. It recently agreed to sell its retail banking business in Japan to Sumitomo Mitsui Banking Corporation.
Citigroup's Mexico unit fined
Banamex, the Mexican subsidiary of Citigroup, was fined $2.2 million related to fraud involving Mexican oil services company Oceanografía. The fraudulent loans cost the bank in excess of $500 million.
Adage Capital's positions traded in 3Q14
Adage Capital added new positions in Shire Plc (SHPG), Mallinckrodt Plc (MNK), TRW Automotive Holdings Corp. (TRW), and Duke Energy Corp (DUK). It exited positions in AbbVie Inc (ABBV) and Kinder Morgan Inc (KMI). Notable position increases were Citigroup Inc. (C) and NiSource Inc. (NI).
The next part of this series will highlight Adage Capital's position increase in NiSource Inc. (NI).