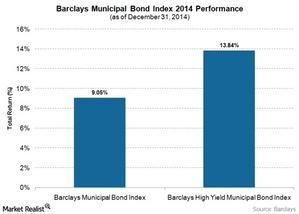 Why 2014 was a year of recovery for the municipal bond market
By Surbhi Jain

Jan. 22 2015, Updated 12:04 p.m. ET
Light at the end of the tunnel
In 2014, the municipal bond market recovered from its stream of bad news. Risk-averse bond investors' preference tilted towards municipal bonds as the federal funds rate remained at the zero lower bound.
As a result, ETFs—like the SPDR Nuveen Barclays Capital Municipal Bond ETF (TFI) and the iShares S&P National Municipal Bond Fund (MUB)—gained along with stock market ETFs—like the SPDR S&P 500 ETF (SPY), the iShares Core S&P 500 (IVV), and the iShares S&P 100 (OEF).
The US municipal bonds market had a great year in 2014. Its returns were just below the S&P 500's 13.69% return and the Dow Jones Industrial Average's 11.5% return. In 2014, municipal bonds turned out to be the third best performing category.
Article continues below advertisement
The S&P National AMT-Free Municipal Bond Index gained 8.92%. This was above the 8.66% return generated by the Markit iBoxx USD Liquid Investment Grade Index—it tracks investment-grade corporate bonds. The Barclays U.S. Treasury Bond Index delivered a 5.05% return. It tracks the safe-haven US Treasuries.
In 2014, issuance in the $3.6 trillion municipal bond market totaled more than $314 billion. As of September 30, 2014, the municipal bond ETF space commanded as much as $13.4 billion in assets.
Why 2015 looks promising
The low interest rates in the US increased risk-averse investors' preference for municipal bonds—compared to Treasury bonds, or T-bonds. Municipal bonds offer higher returns, compared to Treasuries, on a tax-adjusted basis. They safeguard against the risk that corporate bonds carry. Also, there have been more instances of refunding municipal bond issues. This helped increase the sales.
By the end of 2014, the 30-year AAA-rated municipal bond yield curve adjusted downward from 4.19% to 2.86%, according to Municipal Market Data. This was a fall of 133 basis points since the end of December 2013. By January 16, 2015, the yield on the 30-year AAA municipal bond was down to 2.54%—the lowest since December 2012. At the same time, the yield on the AAA-rated ten-year municipal bond was 1.75%—the lowest since May 2013.
Also, with the Fed insisting on taking a "patient" stance on the rate hike, higher yielding municipal bonds should help them find favor—compared to Treasuries. The Fed's stance is already helping the US municipal bond market. Recently, the Obama administration also came out with a pleasant surprise for the municipal bond market.