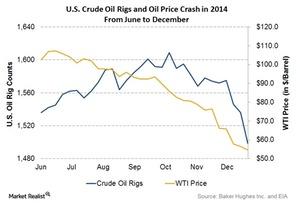 Do 2014 crude oil prices and rig counts parallel the 2008 crash?
By Alex Chamberlin

Updated
Crude oil's movement similar to 2008–2009
Let's compare the graph below with the graph in the previous post. The similarities are quite evident. Compared to a 73% fall between July and December 2008, the West Texas Intermediate (or WTI) price fell 47% during July–December 2014.
Crude oil rigs, once again drawing a strong similarity with 2008, rose first and then declined. From 1,536 rigs at the start of June in 2014, it increased to 1,609 in October, a historic high. Since then, it has declined by ~7%.
Article continues below advertisement
Falling prices have affected upstream oil companies' revenues and profits negatively. These companies include Whiting Petroleum Corporation (WLL), Concho Resources (CXO), Laredo Petroleum (LPI), and Occidental Corporation (OXY). All these companies are components of Energy Select Sector SPDR ETF (XLE).
What makes 2014 different from the past?
Shale oil production: Where 2014 diverges from 2008 is the cause of the crude oil price fall. While 2008 was mostly a demand-led crash, the 2014 decline in the crude oil price is mostly a result of supply glut. Strong production in US unconventional shale is the primary reason for crude oil supply outpacing demand, bringing the price down. Read the following article to see how US crude oil production has increased over the years.
OPEC supply: Oil and Petroleum Exporting Countries (or OPEC), which accounts for ~30% of the world's oil production, recently decided not to cut production to maintain their market share.
Article continues below advertisement
Uncertainly over world economy: Some economies like Europe and Russia have begun to show weakness. China, one of the highest crude oil consumers, is beginning to slow as well. While it may be too early to predict whether these will snowball into another recessionary situation, this has definitely kept crude oil prices in check.
What to look for in 2015
As we have seen, there are similarities between 2008 and 2014, although not everything is the same. In the first six months of 2009, WTI prices recovered as much as 49%, while the number of rigs kept falling. During the first six months of 2009, oil rigs had declined by 47% before they started rising again. It remains to be seen whether crude oil follows a similar pattern this time around.
Continue reading the following section to learn how crude oil production is related to crude oil rigs.