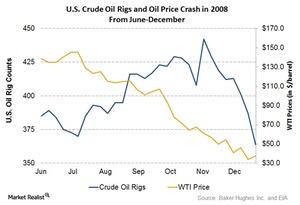 Why 2008 crude oil prices, rigs' fall resemble 2014 scenario
By Alex Chamberlin

Updated
The 2008 fall
In this series, we have been discussing crude oil prices and rigs, as well as their interrelationship. However, one striking feature of 2014's scenario is its similarity to 2008's occurrences.
Article continues below advertisement
In July 2008, West Texas Intermediate's (or WTI) crude oil price was ~$107 per barrel. By December that year, it fell to ~$37 a barrel, a drop of ~73%. Crude oil rigs during the same period declined from 385 to 364. However, before falling by the end of the year, the oil rig count had increased to 442 by the first week of November, before falling sharply by 18% in two months.
Why crude oil price fell in 2008
The recession in the fall of 2008 was primarily demand driven. The Lehman Brothers bankruptcy set the credit crisis rolling, eventually driving out liquidity and with it the US economy. The US housing market was in tatters, with a large number of customers defaulting on mortgage payments.
Plus, some parts of Europe, such as Greece and Italy, were also heavily burdened by sovereign debt. All these factors led to the fall in crude oil prices, which eventually dried oil rigs by the end of the year.
Energy companies affected
The fall in crude oil prices in 2008 reduced the upstream energy companies' revenues, negatively affecting their profitability. Some of these companies include Chevron Corporation (CVX), Concho Resources (CXO), Anadarko Petroleum (APC), and Apache Corporation (APA). Many of these firms are components of Energy Select Sector SPDR ETF (XLE).
In the next part of the series, we will see whether 2008 holds any resemblance to the current crude oil price and rigs situation.