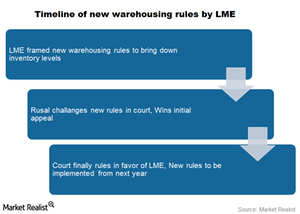 2 Factors That Could Impact Aluminum Premiums In 2015
By Mohit Oberoi, CFA

Nov. 20 2020, Updated 5:12 p.m. ET
Aluminum premiums
Aluminum premiums more than doubled in 2014, and have hovered around $500 per ton for the last couple of months. This is more than a quarter of the prevailing aluminum price on the London Metal Exchange, or LME. Aluminum producers including Rio Tinto (RIO), BHP Billiton (BHP), and Alcoa (AA) benefited from these higher premiums. However, there are two developments that could change the game for aluminum premiums in 2015.
Article continues below advertisement
New warehouse rules
The LME recently won a court case against United Company RUSAL. The new rules require warehouses to ship out more aluminum than they take in after a period exceeding 50 days. This rule is expected to force excess inventories out of warehouses. With inventories going out, the artificial shortage of aluminum should come down. Clearly, this could have a negative impact on aluminum premiums.
Aluminum premiums contracts
Aluminum producers argue that the aluminum prices on the LME don't represent true fundamentals. This is because of speculative trading in aluminum. Aluminum prices can go up or down based on this trading. On the other hand, aluminum premiums are negotiated between aluminum warehouses and the end buyers. This makes them less susceptible to speculation.
The LME is planning to introduce contracts on aluminum premiums also. This is expected to increase the volatility in aluminum premiums. Aluminum buyers believe that aluminum premiums are artificially high.
If aluminum premiums come down, it will have a big impact on aluminum producers. Century Aluminum (CENX) had been planning to get into a new, direct sales pricing mechanism to benefit from higher premiums. Currently, it's a part of the SPDR S&P Metals and Mining ETF (XME).
Another possible risk for Alcoa is the massive drop in crude oil prices. We'll look at that in the next part of this series.