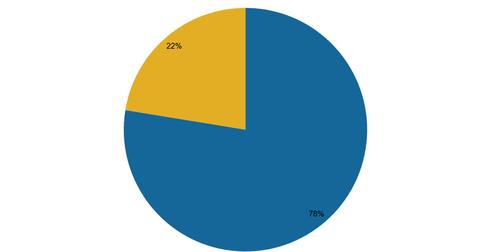 Wynn Resorts' insiders hold top three positions in ownership list
By Shawn Bolton

Updated
Institutional investors
The influence of institutional investors has grown over time since the proportion of U.S. public equities managed by institutions has risen steadily over the past six decades.
The above chart shows that institutional shareholders hold ~78% of Wynn Resorts (WYNN).

Article continues below advertisement
Insider holding
Investors should also take into account the insider ownership before they invest in a company. Members of management who own shares in their company show they are confident in the company's business. However, weak market and poor fundamentals of the company could negatively impact the company's share price.
The above chart shows that Stephen A. Wynn, Wynn Resorts' chairman and CEO, and Elaine P. Wynn, a director of Wynn Resorts, hold 9.9% and 9.5% stake, respectively, thereby placing them in the top three shareholders of Wynn Resorts.
It should be noted that investors must not make any decision solely on the ownership pattern and should also take into account the fundamentals and valuations of the company before investing.
Companies like Las Vegas Sands (LVS) and MGM Resorts (MGM) have insider ownership of around 49% and 19%, respectively. However, Caesars Entertainment (CZR) has insider ownership of ~1%.
If you are willing to invest in these gaming companies, then you could invest in exchange-traded funds (or ETFs) like Consumer Discretionary Select Sector Standard and Poors depositary receipt (or SPDR) (XLY), which invest heavily in the leisure industry.
To know about the recent share price performance, valuations, and broker recommendations of Wynn Resorts (WYNN), read the article Share prices highly volatile for Wynn and peers.