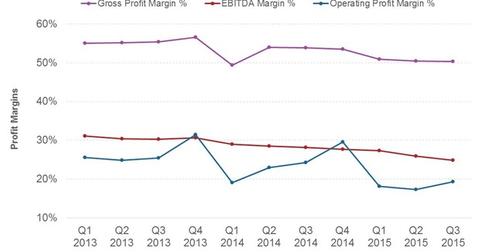 Which Way Is The Wind Blowing For Lululemon's Cost Trends?
By Phalguni Soni

Updated
Analyzing quarterly profitability trends for Lululemon
Lululemon Athletica's (LULU) cost of goods sold (or COGS) rose 18.8% year-over-year to $208.3 million in the third quarter of fiscal 2015. Other operating costs were also higher. Selling, general, and administrative expenses (SG&A) recorded an increase of 15.7% to $129.9 million. Revenues, meanwhile, rose by just 10.4% to 419.4 million (refer to Part 10 of this series). Key factors creating cost pressures included:
Article continues below advertisement
higher occupancy costs and depreciation
higher investment in the supply chain and product engine functions
operating expenses associated with rollout of new stores
higher variable costs associated with higher e-commerce sales
an increase in salaries, wages, and professional fees
headwinds from the depreciating Canadian and Australian dollars, resulting in higher production costs
Key profitability trend
Both gross margin and operating profit margin recorded declines in the quarter as a result. Margins were also adversely affected due to a tilt in the product mix towards lower-margin products. A key positive in the quarter, however, came from lower markdowns and discounts compared to the past few quarters. This shows that the brand is regaining strength after being dogged by controversy after its product recall in 2013.
Article continues below advertisement
Full-year outlook
Cost-side factors are also expected to affect profitability in fiscal 2015, with gross margin falling between 51% and 52%, down from 53.9% in fiscal 2014. Operating profit margins are expected to decline, primarily as a result of higher investments in the supply chain and new store rollouts.
Profitability improvement initiatives
The company has hired management consultants to improve its go-to-market product cycle. This would impact a number of departments, including product development, manufacturing, inventory management, and distribution. The company expects to see a 300-basis-point or 3% improvement in its gross margin to bring it back to the mid-50s by 2016.
LULU is part of the Vanguard Total Stock Market ETF (VTI), the Vanguard Consumer Discretionary ETF (VCR), the Vanguard Mid-Cap Growth ETF (VOT), the iShares US Consumer Goods ETF (IYK), and the Vanguard Growth ETF (VUG).