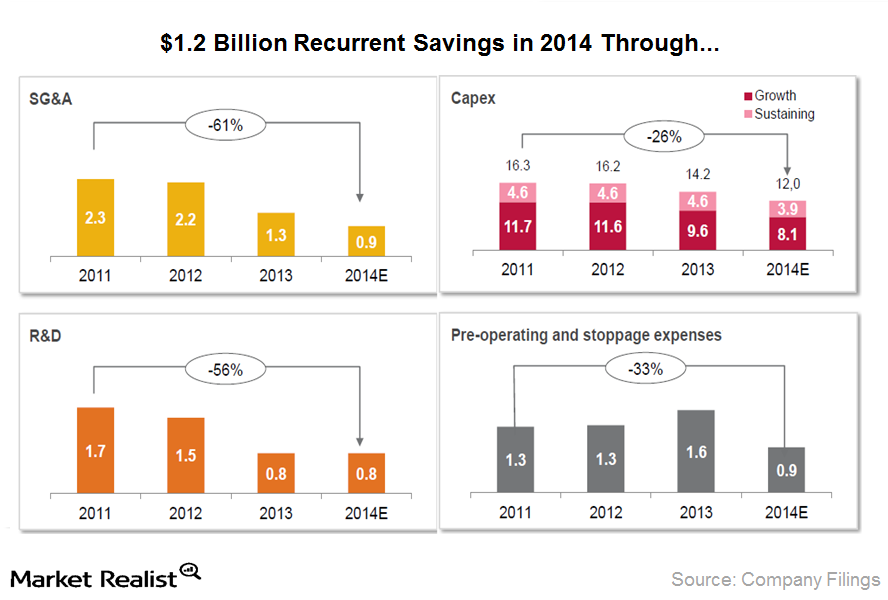 Vale SA: Trying times call for serious strategy
Cost-cutting measures
Vale SA (VALE) has adopted a strategy involving cost reduction, disciplined capital allocation, and divestment of non-core assets in response to the weak commodity price environment.
Its rivals, including BHP Billiton Ltd. (BHP), Rio Tinto plc (RIO), and Cliffs Natural Resources Inc. (CLF) have also embarked on cost-cutting and restructuring initiatives to remain profitable.
What are the main elements of Vale's strategy and how will it all help the company get through these difficult times?
Article continues below advertisement
Cost reduction
Vale SA achieved $1.2 billion in recurrent savings in 2014. Chiefly responsible—selling, general, and administrative expenses—which fell by ~23%, and pre-operating and stoppage expenses, which were cut by ~46%. Research and development expenses were also reduced this year compared to previous years.
Disciplined capital allocation
Vale SA significantly reduced its capital expenditure, or capex. It's now focusing on a small-project pipeline that will generate more value for shareholders. Vale SA's capex fell from $16.2 billion in 2012 to $14.2 billion in 2013, and it's budgeted to be $12 billion in 2014.
The company also decided to idle its Integra coal mine, consistent with its policy of allocating capital to projects that generate better returns for its shareholders.
Divestment
To optimize its portfolio, Vale SA has divested many non-core assets. The company sold assets worth $6 billion in 2013. It's also looking to spin off a part of its base metals business, which could be worth up to $14 billion.
The SPDR S&P Metals and Mining ETF (XME) invests in the above-mentioned stocks and gives investors diversified exposure to the metals and mining sector.