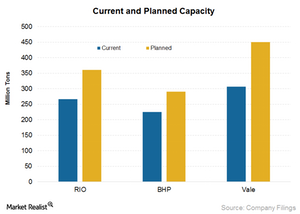 Vale SA adjusts to current operating conditions for iron ore
By Anuradha Garg

Nov. 27 2019, Updated 7:29 p.m. ET
Tough operating conditions
Vale SA's (VALE) biggest product contribution comes from iron ore, close to 62% of revenues. Iron ore isn't performing well this year. Iron ore prices are down ~59% this year because of oversupply in the market. Prices were also impacted by weaker-than-expected demand growth from China. China accounts for two-thirds of the global seaborne iron ore demand.
Coal prices are also down ~25% this year. This is putting pressure on the company's profitability.
Article continues below advertisement
In response to market conditions, iron ore producers including Vale, BHP Billiton Ltd. (BHP), and Rio Tinto plc (RIO) are in cost-cutting mode. Smaller players like Cliffs Natural Resources Inc. (CLF) are being pressured by the low prices and the big players on the supply side. Smaller players are also impacted by weaker-than-expected demand conditions in China and elsewhere.
Increasing supply
Most of the big iron ore players, including Vale, BHP, and Rio, are increasing production to take advantage of the inherent economies of scale enjoyed by large companies. Given current conditions, the big players hope to drive marginal supply out of the market and obtain increased market shares in the iron ore space. This, in turn, is putting more downward pressure on prices.
Productivity initiatives undertaken
To mitigate the impact of this weak price environment, Vale is undertaking several initiatives to increase productivity and reduce costs. These include introducing a truckless system at its new project site with Rio Tinto, which is a leader in automation within its peer group (XME). Rio is the largest owner and operator of autonomous, driverless trucks in the world. BHP is trying to catch up on automation to reduce its cost per unit.
Among its other initiatives intended to boost productivity and cut costs, Vale is introducing online wagon monitoring, automated trains, and fully automatic reclaimers.