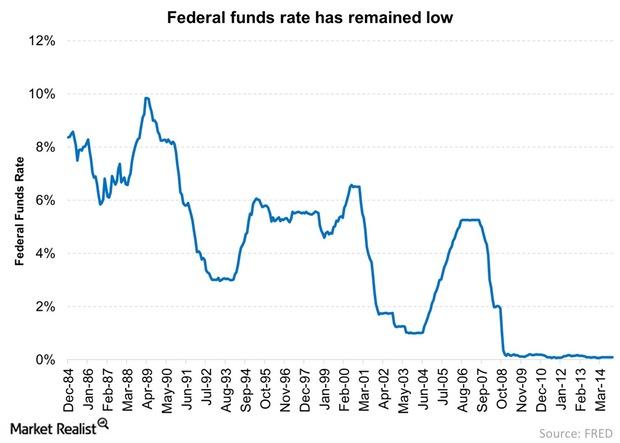 The Federal Funds Rate: Why The US Dollar Could Appreciate Further
By Russ Koesterich, CFA

Nov. 20 2020, Updated 4:23 p.m. ET
Though the hike in interest rates will likely happen slowly and not until the middle of 2015  at the earliest, it should help strengthen the dollar further relative to most other currencies (with the exception of the Chinese Yuan, which is pegged to the dollar).
Article continues below advertisement
Market Realist – The US dollar could see further appreciation if the federal funds rate rises
The graph above shows the history of the federal funds rate. The federal funds rate is a tool that the Fed uses to control the interest rate in the economy. The rate has been close to zero for over six years.
The Fed has kept interest rates low despite the pick-up in the GDP growth rate. There are two main reasons for this:
The labor market has structural issues.
Inflation remains low.
Although jobs are being created, wage rates are stagnant. Without an increase in wage rates, consumption won't increase meaningfully to sustain growth. Also, consumption remains subdued because the labor force participation is close to its 35-year low. The Fed is keeping interest rates low because lower rates could support business expansions, which, in turn, could lead to more jobs and higher consumption.
The US (SPY) is ahead of the other developed markets (EFA) in terms of economic recovery. Although the Fed will take its time in hiking rates, the US could see higher interest rates before the other developed economies. Higher interest rates could attract funds to the US. This could lead to a further appreciation of the US dollar (UUP).
If interest rates rise, corporate bonds (LQD) and Treasuries (TLT) will decrease in value. This is because their yields will rise along with interest rates.
Read the next part of this series to learn why commodities have been underperforming.