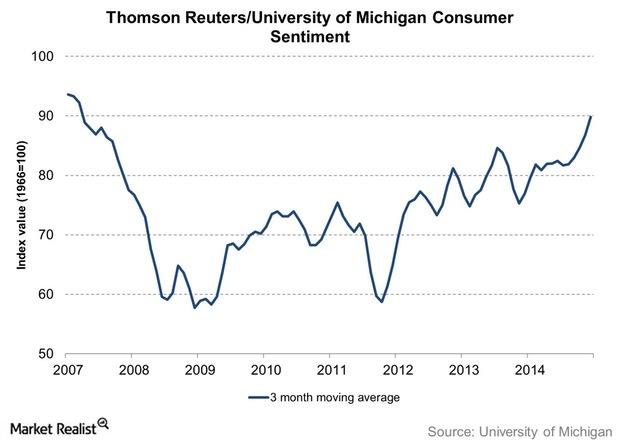 US consumer sentiment at a multi-year high
Consumer sentiment
Consumer sentiment as measured by Thomson Reuters and University of Michigan's report rose to 93.8 based on a preliminary reading for December 2014. The final reading for November was 88.8. This is the highest the index has been since January 2007, when it read 96.9. The final index for December will be released on December 23.
Do keep in mind that this is a volatile index and may be subject to large revisions. You will better appreciate the extent of its volatility by looking at the three-month moving average chart above. As the name suggests, this chart captures the averages of the past three months, every month.
Article continues below advertisement
Why are consumers happy?
Better prospects for jobs and lower fuel prices made consumers happier. In fact, they were the happiest they've been since the recession took hold. Meanwhile, low fuel prices negatively affect the Energy Select Sector SPDR Fund (XLE), the United States Natural Gas Fund, LP (UNG), and the United States Oil Fund, LP (USO).
Consumers' good mood spells good news for consumer discretionary and staples-focused ETFs such as the Consumer Discretionary Select Sector SPDR Fund (XLY) and the Consumer Staples Select Sector SPDR Fund (XLP). When consumers are happy, they're willing to spend more.
The index's average for 2014 stood at 84. Another interesting figure to note is that in the 11 years, or 132 months, since January 2004, this is only the 16th time that the index has risen above 93.
Other inputs
The survey's measure of current economic conditions rose to 105.7 in December from 102.7 in November. This is the highest recorded level since February 2007.
The survey also releases inflation expectations. The results showed that the one-year inflation expectation rose to 2.9% from 2.8%. Meanwhile, five-year inflation expectations surged to 2.9% from 2.6%.
In the next several parts of this series, we'll look in detail at the Treasury bill auctions that were held last week.