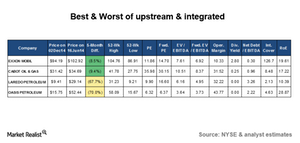 The best and worst upstream and integrated performers
By Manas Chowgule, CFA

Dec. 4 2020, Updated 10:51 a.m. ET
Background
In our series, "Must-know: Top energy stocks after the recent energy decline" at the end of October, we discussed top energy companies following West Texas Intermediate (or WTI) crude oil's ~20% drop from its peak in June. We decided that WTI flirting with $80 per barrel required an analysis.
Now that crude is 40% off its peaks and flirting with $65 per barrel, we thought it was time to update the analysis.
It should be noted that we're discussing companies with current market capitalizations of at least $1 billion. The companies' 30-day average volumes were at least one million shares per day.
Article continues below advertisement
Best-performing companies
Removing companies that outperformed on account of pending acquisitions, the top-performing energy company in the upstream or integrated segment is ExxonMobil (XOM). This isn't a surprise.
While XOM is down, it's still one of the smallest losers in the segment. It had an ~9% drop. This compares to the ~40% drop seen in the SPDR S&P Oil & Gas Exploration & Production ETF (XOP) in the same time frame.
XOM has the advantage of diversified operations. Crude oil prices affect the operations differently.
The other top performer in the segment is Cabot Oil & Gas (COG). Investors may note that COG is a gas-heavy producer. It has some of the best assets in the industry. Lately, natural gas prices haven't seen the same carnage as crude oil prices.
Worst-performing companies
Bringing up the tail end of the segment are the worst performers—Laredo Petroleum (LPI) and Oasis Petroleum (OAS). They had losses of ~70% in the last five months.
The stark difference can be partially explained by analyzing the metrics in the above table. The better performers have low debt levels and high interest coverage. They pay dividends.
In contrast, the losers have higher debt levels and lower interest coverage. At this point, they aren't comfortable enough with their cash flows to pay dividends to shareholders.