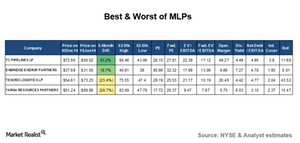 Why investors should know the best and worst MLP performers
By Manas Chowgule, CFA

Dec. 8 2014, Updated 9:00 p.m. ET
Background
In this part of the series, we'll analyze the best and worst performers in the midstream master limited partnership (or MLP) sector.
Midstream MLPs can be thought of as the "defensive" part of the energy industry. Midstream companies earn revenues mainly from a fee-based or tolling model. Their revenues are usually tied to longer-term contracts related to volume.
Also, MLPs pay steady dividends that are often higher than interest yields on bonds.
Since crude oil fell ~40%, the Alerian MLP ETF (AMLP) is practically in the same place it was in mid-June.
In this case, we've analyzed companies with a market capitalization of at least $1 billion. The companies have 30-day average volumes of at least 500,000 shares per day.
Article continues below advertisement
Best-performing MLPs
As expected, the midstream MLP sector presents our first positive showing in our analysis of the energy industry. TC Pipelines (TCP) increased ~43% in the five months under review.
Check out our coverage of TransCanada Corporation's (TRP) MLP subsidiary in "TC PipeLines—TransCanada's important subsidiary."
The other top performer is Enbridge Energy Partners (EEP). It's the MLP arm of another Canadian midstream giant—Enbridge Inc. (ENB). Recently, EEP hit a new lifetime high. The high was a result of news about an asset restructuring plan. The restructuring plan was under review. It would see ENB drop down its US liquids pipeline assets to EEP.
Worst-performing MLPs
Some companies didn't perform well—even in the MLP sector. They were impacted by weak energy prices.
The worst performers in the midstream MLP sector are Tesoro Logistics (TLLP) and Targa Resources Partners (NGLS). These companies registered price losses of ~26%.
TLLP had most of its losses when it announced the acquisition of QEP Field Services. It acquired QEP Field Services from QEP Resources in mid-October for $2.5 billion. NGLS is likely seeing pressure from the market as a result of its weak profitability outlook.