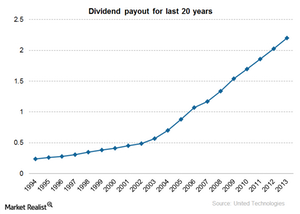 What are United Technologies' core strengths?
By Ally Schmidt

Updated
Strengths of the company
United Technologies (UTX) is a diversified industrial stalwart with a legacy of above-average growth through acquisitions and innovations. The company has five businesses, all of which are stable and profitable. This article will discuss United Technologies' core strengths that have fueled its growth.
Article continues below advertisement
Exceptional record of business growth
The 85-year-old company is arguably the most diversified manufacturer. It has a very strong yet underrated record of business growth and profitability. The company has in the past 20 years produced shareholder returns of 16.3% per year, growing its market cap from $8 billion to $107 billion, which is higher than its rivals GE (8.8%) and Boeing (11%).
United Technologies has paid dividends each year with constant increase in the payout. Even during the financial crisis of 2008 and 2009, when many companies either reduced or suspended dividend payouts entirely, the company increased its dividend per share by 15% and 14.5%, respectively.
Legacy of strong leadership
United Technologies has seen a number of strong and visionary leaders in the past few years that have taken the business to new heights. For example George David transformed the company from being a high-cost laggard into a leader in global supply chain management. He was on the list of America's most powerful people in 2000 and has won numerous recognitions as one of the best CEOs in the US.
Louis Chenevert followed George David as CEO, and in his eight years as CEO has changed the face of the company. He was responsible for the company's acquisition of components maker Goodrich in 2012 for $16.5 billion, the biggest acquisition in aerospace history. He also exited a variety of businesses, from windmills to industrial turbines to window air conditioners, which in turn strengthened the company's core competencies.
United Technologies closely tracks the performance of the Industrial Select Sector ETF (XLI). This ETF includes Lockheed Martin (LMT), Boeing (BA), and Northrop Grumman (NOC), UTX's strongest competitors in the aerospace and defense space.