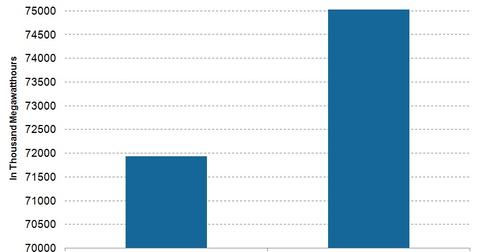 U.S. weekly electricity production rebounds sharply
By Matt Phillips

Updated
Weekly electricity production rises
Weekly electricity production levels in the United States increased for the week ended December 5, 2014. Production levels rose by 4.3% compared to the previous week.
The United States produced a total of 75,017 thousand megawatt hours (or MWH) of electrical output between November 29, 2014, and December 5, 2014. It produced 71,933 thousand MWH of electricity in the preceding week.
Article continues below advertisement
Rise in production upholds the larger positive trend
Electricity production levels bounced sharply this week from a week-over-week decline of -9.7% in production levels for the week ended November 28, 2014.
The drop in electricity output in the previous week came after four consecutive weeks of positive growth in electricity output levels. So this week's rise in production levels can be considered part of the larger trend of rising electrical output in the United States.
Electricity production levels are a key data point to understand the inherent electricity demand within the United States. Since storage of electricity is economically unviable due to high costs, the electricity generated is consumed instantaneously. In other words, electricity output mirrors electricity demand.
How does rising production benefit power companies?
Rising production levels mean higher capacity utilization and more revenues for utilities. As a result of high output, power companies' electricity sales will increase. Hence, electricity production is an important indicator for the power industry.
Some of the largest power companies in the United States in terms of electricity sales are Duke Energy (DUK), American Electric Power Company (AEP), Southern Company (SO), and Exelon Corporation (EXC). The Utilities Select Sector Standard & Poors depositary receipt (or SPDR) (XLU), a key exchange-traded fund (or ETF) in the power sector will be positively affected by growth in electricity production.