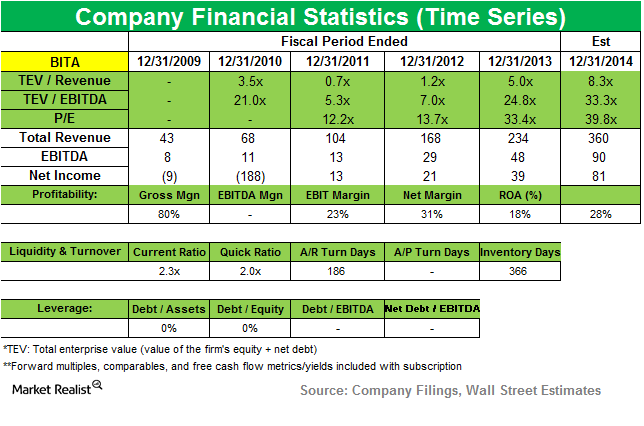 Tiger Global adds significant new position in Bitauto Holdings
By Samantha Nielson

Dec. 15 2014, Updated 8:00 a.m. ET
Tiger Global discloses 14.9% stake in Bitauto
Tiger Global initiated a significant new position in Bitauto Holdings (BITA) that accounted for 6.79% of the fund's third quarter portfolio. A September 12 13G filing by the fund said that it owns a 14.9% stake in Bitauto with 6,565,000 shares.
Article continues below advertisement
Bitauto Holdings overview
Bitauto Holdings is a leading provider of Internet content and marketing services for China's fast-growing automotive industry. Bitauto manages its businesses in four segments:
The bitauto.com advertising business offers automakers and dealers a variety of advertising services through its website, which provides consumers with up-to-date new automobile pricing and promotional information, specifications, reviews, and consumer feedback.
The EP platform business provides web-based integrated digital marketing and customer relationship management (or CRM) applications to new automobile dealers in China. The platform enables dealer subscribers to create their own online showrooms, list pricing and promotional information, provide dealer contact information, place advertisements, and manage customer relationships to help them effectively market their automobiles to consumers.
The taoche.com business provides listing services to used automobile dealers that enable them to display used automobile inventory information on the taoche.com website and partner websites. It provides advertising services to used automobile dealers and automakers with certified pre-owned automobile programs on its taoche.com website.
The digital marketing solutions business provides automakers with one-stop digital marketing solutions, including website creation and maintenance, online public relations, online marketing campaigns, and advertising agent services.
Posts increase in revenue and profits
The company's third quarter revenue grew 60.7% to 608 million renminbi, or $99 million. The company said the increase in revenue was mainly due to the growth of the bitauto.com advertising business and the EP platform business. Non-GAAP (generally accepted accounting principles) basic and diluted profit per ADS was $0.54 and $0.51, respectively. Non-GAAP profit was $23.4 million, an 85.3% increase from the corresponding period in 2013.
Article continues below advertisement
China auto sales growth is slowing down
The company's competitors include Autohome (ATHM), and Chinese websites Sina (SINA) and Sohu (SOHU). Analysts say that BITU is poised to benefit from the China passenger vehicle market growth, and an increase in the share of dealer platform and generation of sales leads.
The China Association of Automobile Manufacturers said passenger-car sales in November grew 4.7% from a year earlier to about 1.8 million vehicles. Sales of commercial and passenger vehicles rose 6.1% to 21.08 million units for the first 11 months of 2014, as compared to full-year sales of 21.98 million units for 2013. Reports also noted China auto sales growth has slowed due to the sluggish economy, high competition, and restrictions on car ownership.
Bitauto's growth strategies
Bitauto said it "will remain focused on developing mobile product and service offerings and executing on its established core growth strategies." The company expects to expand value-added services on the EP platform and to drive forward pay-for-performance and transaction services and products. It also expects to continue its brand building efforts and further enhance Bitauto's brand recognition. Thirdly, it will invest in the used car business.
Top holdings Tiger Global traded in the third quarter
The fund added new positions in Bitauto Holdings (BITA), Tableau Software (DATA), Mobileye NV (MBLY), and GoPro (GPRO). The fund sold positions in Dollar General (DG), Fidelity National Information Services (FIS), Comcast (CMCSA), and Qihoo 360 Technology (QIHU). Top position increases include Hertz Global Holdings (HTZ), MasterCard (MA), and Autohome (ATHM).
The next part of the series will highlight the fund's new position in Tableau Software.