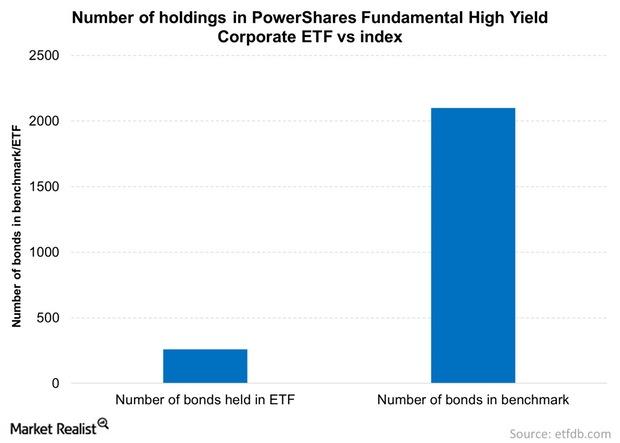 The Management Of Bond ETFs Versus Equity ETFs
By Matt Tucker, CFA

Dec. 22 2014, Updated 10:14 a.m. ET
How ETFs are managed
An ETF portfolio manager (or PM)'s number one goal is to track the performance of the fund's target index as closely as possible.  The difficulty of this task can vary greatly depending on how accessible the securities in the index are. Tracking a bond index adds another layer of complexity.  Some bond indexes are huge – think hundreds or even thousands of bonds.  And since bonds are typically less liquid, it's usually impossible for an ETF to own every security in a given index – most of those bonds are simply unavailable.  Instead, bond ETF managers use a "sampling" approach where they try to replicate the risk and return characteristics of the index using a smaller portfolio of available bonds.
Article continues below advertisement
Market Realist – Management of bond ETFs versus equity ETFs
The above graph compares the number of holdings in PowerShares Fundamental High Yield Corporate ETF (PHB) to the number of bonds in its benchmark, the RAFI Bonds US High Yield 1-10 Bond Index. The index has about 2,100 bonds, while PHB tracks just close to 260 bonds.
This shows that PMs covering high yield bond ETFs (HYG)(JNK) use a sampling method for the management of bond ETFs. Only representative bonds within the index are chosen. Meanwhile, they choose bonds from the index such that the results of the selected bonds are similar. One of the reasons for this is that the complete replication of the benchmark would increase trading costs.
On the other hand, stock ETFs such as the SPDR S&P 500 ETF Trust (SPY) and the iShares Core S&P 500 Index (IVV) that track the S&P 500 are easier to manage because stocks are more liquid.
In the next part of this series, we'll show you how to calculate the underlying value of an ETF.