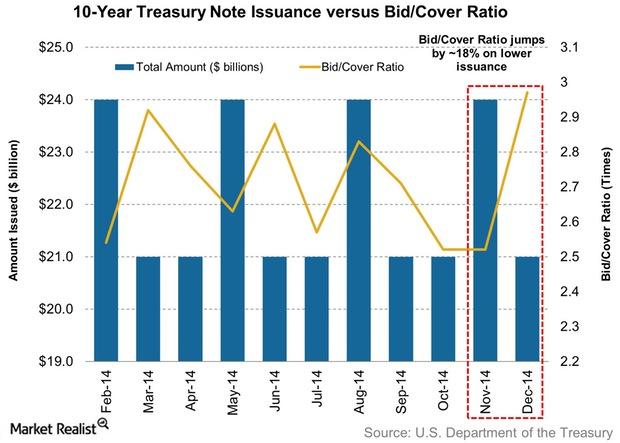 10-year Treasury note auction garners strong demand
By David Ashworth

Dec. 17 2014, Updated 8:27 a.m. ET
Borrowing quantum reduced
The US Department of the Treasury conducts a ten-year Treasury (IEF) note, or T-note, auction every month. The ten-year Treasury (UST) yield is a benchmark yield for financial markets. It's used to calculate the equity risk premiums for stocks (SPY). It's also used as a benchmark yield for real estate mortgages.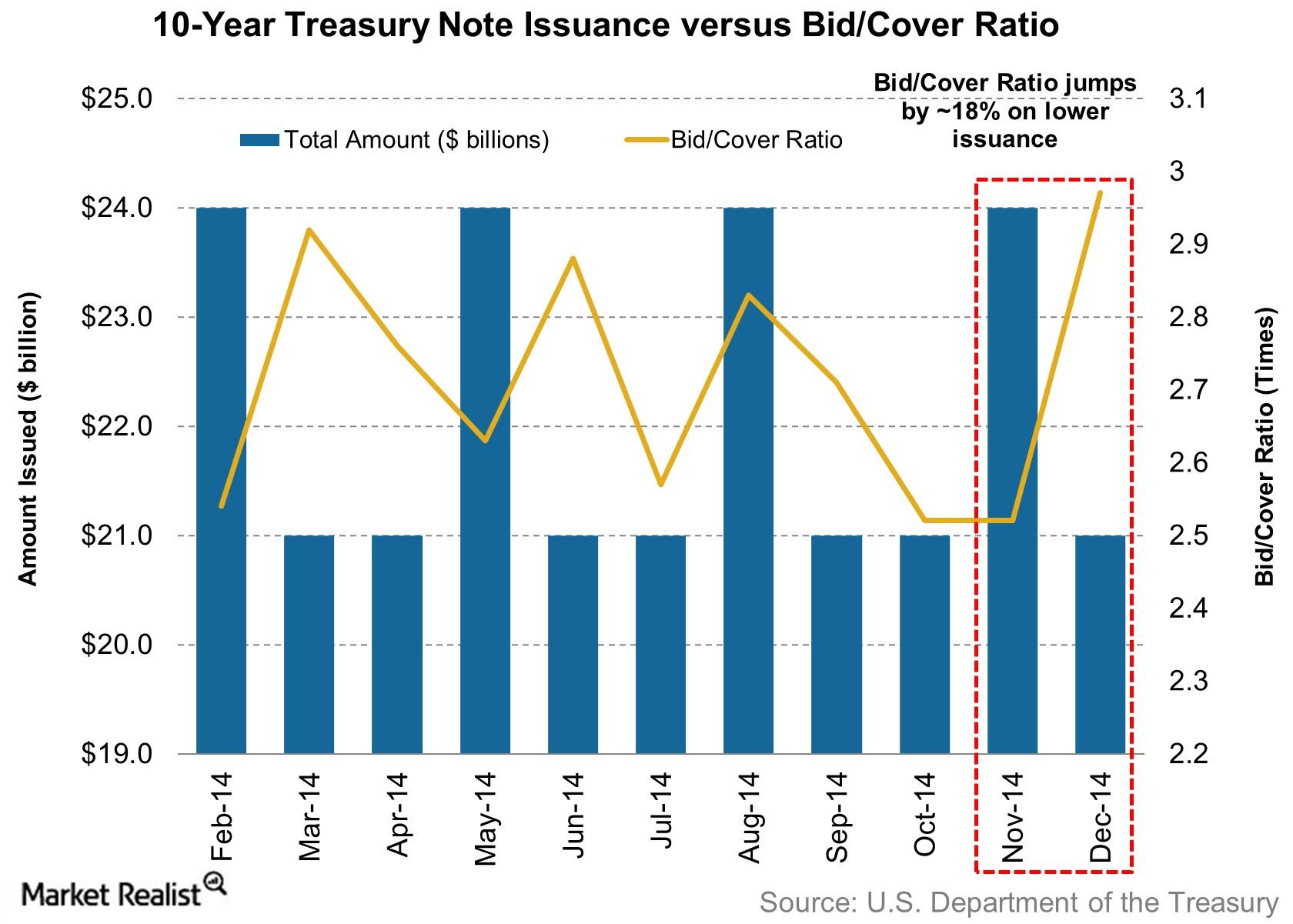 It affects returns on exchange-traded funds, or ETFs, such as the Vanguard REIT Index Fund (VNQ) and the SPDR S&P Homebuilders ETF (XHB).
The iShares 7-10 Year Treasury Bond ETF (IEF) and the ProShares Ultra 7-10 Year Treasury ETF (UST) provide exposure to ten-year T-notes.
Article continues below advertisement
Key takeaways
The auction was held on December 10.
The auction size was set at $21 billion—$3 billion lower than November's auction.
The issue's coupon rate was kept at 2.25%—the same as in November.
The high yield for December's auction was lower—2.214% compared to 2.365% a month ago.
Direct bidding stronger at November's auction
The lower auction supply saw a higher bid-to-cover ratio than last month. The ratio was ~3x compared to 2.5x in November, the highest in 2014. It beat the previous high of 2.9x recorded in March of this year. The ratio averaged 2.7x for all auctions held in 2014.
Market demand for the ten-year note was strong in December—the highest since March 2013. This was primarily due to higher indirect bids. The percentage of indirect bids increased from 44.7% to 53.8% at the December auction. Indirect bidders include foreign central banks. On the other hand, direct bids almost halved, from 13.4% in November to 6.9% this month. Direct bids include bids from domestic money managers—for example, American International Group Inc. (AIG).
Article continues below advertisement
Primary dealer bids at the auction fell for the second successive month. Takedown fell to 39.3% of competitive bids from ~42% in November's auction. Primary dealers act as market makers for the auctioned securities. These companies are obligated to bid at auctions, and include financial institutions such as Goldman Sachs Group, Inc. (GS).
Yields analysis
After the auction on December 10, ten-year Treasury yields fell by four basis points—or 0.04%—to 2.18%. Yield on the security ended the week at 2.10%.
30-year T-bond auction
In the next part of this series, we'll analyze the key highlights from last week's Treasury auction for the 30-year T-notes.