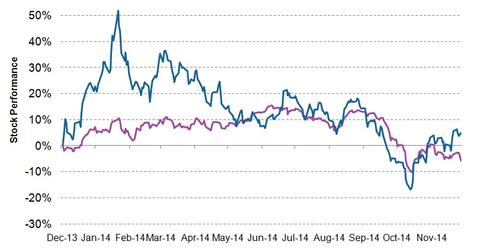 Teekay Tankers: Overview of its earnings and fleet
By Katie Dale

Updated
Series snapshot
The revenue mix for Teekay Tankers Ltd. (TNK) is largely contributed by the net pool revenues. The company has developed secured charter-in contracts and created a significant base for the company's future growth. In this series, we'll take a look at Teekay Tankers' third-quarter earnings reported on November 6, 2014. Teekay reported a net  profit for the quarter compared to a net loss reported in the same quarter a year ago, while it recorded a significant surge in cash available for distribution. From the reported earnings date until now, the company's stock has increased 13%.
Article continues below advertisement
Comparatively, Teekay Tankers' peers, including Frontline Ltd. (FRO), Nordic American Tanker Ltd (NAT), DHT Holdings Inc (DHT), and Navios Maritime Acquisition Corporation (NNA), recorded (2.2%), 10.3%, (2.1%), and 3.1% increases, respectively, during the same period. The Guggenheim Shipping exchange-traded fund (or ETF) (SEA) that tracks shipping companies also recorded a 2.8% dip in the same period.
Before looking at the third quarter in detail, let's have a brief overview of the company and its fleet size.
About Teekay Tankers
Teekay Tankers (TNK) was formed by Teekay Corporation (TK) in December 2007 in order to expand its conventional oil tanker business. Teekay Corporation (TK), the majority shareholder of Teekay Tankers (TNK), manages all of Teekay Tankers' assets, operations, marine systems, and standards. Teekay Tankers owns a minority interest in Tanker Investments Ltd, which currently owns a fleet of 14 modern tankers.
Teekay Tankers' fleet
Teekay Tankers directly owns a fleet of 27 double-hull vessels, including 11 Aframax tankers, 10 Suezmax tankers, three Long Range 2 (LR2) product tankers, and three Medium-Range (MR) product tankers. The company has contracted six time charter-in Aframax tankers and four time charter-in LR2 product tankers.
Through a mix of short- or medium-term fixed-rate contracts, Teekay Tankers' vessels also undertake spot tanker market trading. Teekay Tankers and Teekay Corporation own a 50% interest each in a joint venture company that manages its vessels commercially and technically. Through this same venture, Teekay Tankers also owns a VLCC supertanker.