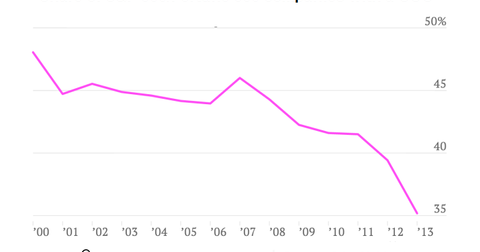 Symantec dissolves COO position
By Anne Shields

Dec. 24 2014, Updated 2:38 p.m. ET
Split leads to elimination of COO position
On November 13, 2014, Symantec Corporation (SYMC) eliminated its chief operating officer (or COO) position from the company's organizational structure. Stephen E. Gillett, the company's recent executive vice president and COO, stated that he will remain with the company during a transitional period.
News of Symantec's removal of its COO position comes ahead of the company's split into the following two separate units: security and storage software. In 2014, many leading technology players in the industry announced divestitures, breakups, and spinoffs. IBM (IBM) spun off its chip division to Lenovo. Hewlett-Packard (HPQ) announced plans to split itself into two businesses, one for its hardware, software, and services businesses and the other for its PC and printing units.
Article continues below advertisement

The above chart shows a broader corporate trend toward removal of the COO position. Once, the COO was considered a second-in-command position. However, only 33% of large listed firms in the United States now have a COO. This trend has benefited chief financial officers (or CFOs) and finance chiefs who have started to shoulder more operational duties with a vision to take over as the chief executive going forward.
Symantec adds two new executives
In early November 2014, Symantec announced the addition of two new executives to its executive leadership team for its security business. Balaji Yelamanchili will be the executive vice president (or EVP) and general manager (or GM) of Symantec's Enterprise Security Products. Jeff Scheel will be the senior vice president (or SVP) of corporate development at Alliance and Strategy. Yelamanchili and Scheel have held similar responsible positions at Oracle (ORCL) and FireEye (FEYE).