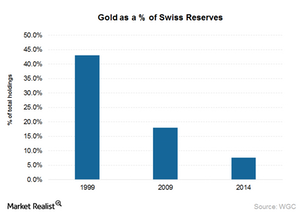 Why the Swiss gold referendum mattered for gold investors
By Anuradha Garg

Updated
Swiss gold referendum
The Swiss gold referendum was a vote on three key areas:
Whether or not the Swiss National Bank (or SNB) should increase its gold reserves to 20%, from the current 7.8%, according to the World Gold Council's latest report
Central Bank should stop selling its precious metals
All its gold should be held within the country
The referendum went to vote on November 30, 2014, and was rejected with a 78% vote. The vote is a blow to the Save Our Swiss Gold campaign that had the hopes of moving Switzerland back to a gold standard, which the country left in 1999. Proponents of this initiative wanted it to pass, as they believe gold reserve measures are needed because SNB's policy of capping the value of the franc has left its balance sheet with surplus euros, which have devalued because of the financial crisis.
Article continues below advertisement
Had this referendum been approved, Swiss National Bank would have had to buy ~1,630 tons of gold in the next five years, which would have been positive for gold and gold-backed exchange-traded funds (or ETFs) such as the Standard & Poors depositary receipt (or SPDR) Gold Shares (GLD) and also gold stocks such as Goldcorp Inc. (GG), Barrick Gold Corporation (ABX), Newmont Mining Corporation (NEM), Kinross Gold Corporation (KGC), and Yamana Gold (AUY). The Gold Miners Index (GDX) invests in all the above-mentioned stocks.