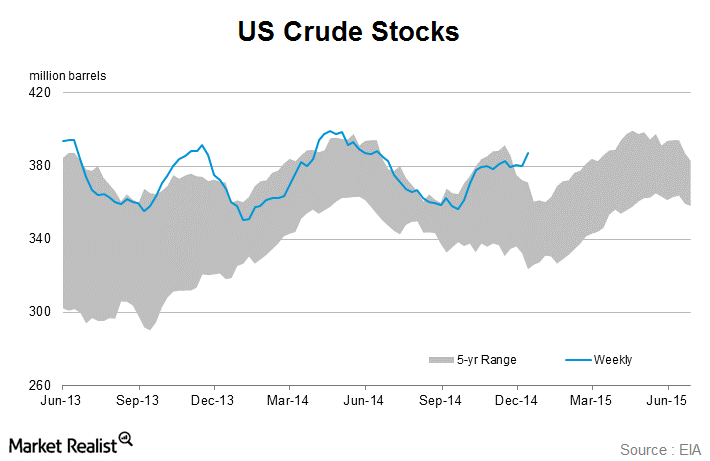 Why was there a surprise in the EIA's last crude inventory report?
By Keisha Bandz

Dec. 4 2020, Updated 10:53 a.m. ET
Unexpected increase in inventories
On December 24, the US Energy Information Administration (or EIA) released its crude inventory report for the week ended December 19. Inventories increased unexpectedly by 7.3 million barrels, whereas analysts had expected a decline of 2.5 million barrels.
Total US commercial crude inventory now stands at 387.20 MMbbls (million barrels). As the chart above shows, these levels are at the higher end of the five-year range for this time of year.
Article continues below advertisement
Imports
A surge in imports was the major reason for the inventory build last week. Crude oil imports rose by 1.18 MMBpd (million barrels per day) to 8.292 MMBpd.
Canadian, Kuwaiti, and Venezuelan imports led the surge. Canadian imports were up by 485,000 barrels per day (or bpd), Kuwaiti imports were up by 289,000 bpd, and Venezuelan imports were up by 210,000 bpd.
Refinery demand
An increase or decrease in inventories is driven by demand and supply dynamics. The main source of crude demand is from refineries. Refinery input levels affect inventory draws and builds. Increased crude input demand is bullish for oil prices. We'll discuss this demand side of the equation in detail in the next part of this series.
Changes in inventories drive WTI prices, which in turn impact the profitability of oil-producing companies such as Anadarko Petroleum (APC), Chevron Corp. (CVX), ExxonMobil (XOM), and Murphy Oil (MUR).
Many of these oil-producing companies are components of the SPDR S&P Oil & Gas Exploration & Production ETF (XOP). So XOP's fortunes also directly link to movements in crude oil prices.
Supply
The amount of crude supply available with respect to demand also drives crude prices. A strong supply level is bearish for crude prices unless it meets with parallel demand.
This is what's been happening in the US lately. Strong production levels have resulted in robust crude inventory levels, unmatched by demand.
Last week, US crude production marginally increased to 9.12 million barrels per day from 9.13 MMbbls/d in the week prior. But these production levels are still ~1 MMbbls/d higher compared to a year ago and the highest in about 30 years.
In its December "Short-Term Energy Outlook" (or STEO), the EIA said that output will hit 9.3 MMbbls/d in 2015. This is less than the 9.4 MMbbls/d it had forecast in its November STEO.
The EIA also increased its 2014 production forecast to 8.74 MMBpd in 2014—0.03 MMBpd higher than its November forecast
Also per the STEO, total US crude oil production averaged an estimated 9.0 million barrels per day in November.