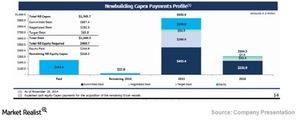 What is Star Bulk's vessel financing status?
Vessel financing
Star Bulk Carriers Corp. (SBLK) is scheduled to take delivery of a list of certified newbuilding vessels by the second quarter of 2016. The company has already started to finance 24 of the 35 newbuilding vessels. Negotiations are underway for the financing of nine newbuilding vessels and are likely to turn into committed financing in the next one to two months.
Negotiations for two of the vessels haven't begun yet, but the target is $65 million of senior debt financing. This is equivalent to the financing of sister ships of those vessels. For the on-water vessels, Star Bulk has recently signed committed term suites with CIT for up to 30 million secured debts financing on 11 vessels that are 25 years old and acquired from Excel Maritime.
Additionally, Star Bulk is in discussions to proactively refinance the $231 million bridge loan facility provided by Oaktree and Angelo Gordon. It is also in talks to refinance certain balloon payments due in 2016, which is aimed at a stable cash flow during the upcoming year.
Article continues below advertisement
Going forward
From June 30 to December 2, 2014, Star Bulk's total financing committed or nearly committed stood at $694 million against 440 vessels. Due to rapid expansion, Star Bulk's financing levels are higher compared to industry (SEA) peers such as Diana Shipping Inc. (DSX), Knightsbridge Shipping Ltd (VLCCF), Navios Maritime Holdings Inc. (NM), and Eagle Bulk Shipping Inc. (EGLE).
Star Bulk Carriers Corp. (SBLK) foresees a strong demand from major lenders to finance its vessels, clearly reflected by the terms offered to the company. After the merger with Ocean Bulk, the cost of debt of the financing market has reduced by 50 basis points to 75 basis points mainly due to an improved financing market and the increased size of the company.