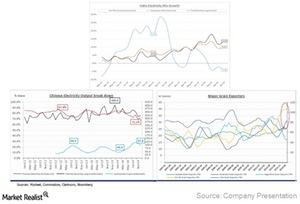 Star Bulk comments on coal and grain
Chinese and Indian coal imports
Chinese coal imports for the first ten months of 2014 dipped 12.6% year-over-year due to the substantial increase in hydropower electricity production. Historically, hydropower production has been inherently volatile. Star Bulk Carriers Corp. (SBLK) believes that the recently announced coal import restrictions were minimal, while the freight rate agreement signing between Australia and China can be considered a positive development in the upcoming few months. As a result, this will benefit Star Bulk Carriers and its industry (SEA) peers such as Diana Shipping Inc. (DSX), Knightsbridge Shipping Ltd (VLCCF), Navios Maritime Holdings Inc. (NM), and Eagle Bulk Shipping Inc. (EGLE).
Article continues below advertisement
Indian thermal coal imports were up 18% on a quarterly basis due mainly to thermal electricity production, which increased 13.6% year-over-year. Going forward for the upcoming three years, thermal electricity output is projected to increase by more than 25%, providing for a meaningful upside in Indian thermal coal imports.
China's output and future plans
Out of the total November electricity output of 448.7 billion kilowatt hours in China, output from thermal plants fell 4.2% from a year earlier, to 345.5 billion killlowat hours (or kWh), while hydroelectric power jumped nearly 35%.
China plans to cap the increasing rate at which it consumes energy to 28% for the seven-year period to 2020. The nation is targeting energy use equivalent to an annual 4.8 billion metric tons of standard coal by 2020, according to a statement issued by the State Council. China's energy use surged 45% in the seven years to 2013, according to data from the National Bureau of Statistics of China.
Grain trade
Grain trade has recorded an increase of 5.9% year-over-year in the first ten months of 2014, mainly due to rising US exports. European Union exports further support grain trade in 2014.