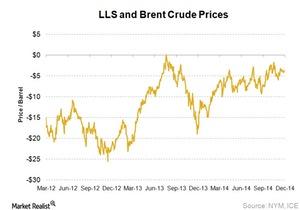 Spot and futures oil prices create offshore storage
By Katie Dale

Dec. 4 2020, Updated 10:53 a.m. ET
Rising contango
Market structure, known as contango, allows traders to lock in profits by buying oil now and selling it forward for later delivery, as long as the costs of storage are low enough. In July 2014, the oil market flipped into a prolonged contango for the first time since 2010. The spread between Brent for the first and second months widened to around $0.80 per barrel, from around $0.20 in the third week of December. Looking further ahead, Brent delivery for February is currently close to $3.95 cheaper than for delivery five months later, the widest gap since 2010.
Article continues below advertisement
The Energy Information Administration revealed that US crude oil inventories rose to a seasonally adjusted annual rate of 7.267 million in November from -0.847 million in the preceding month. Analysts had expected US crude oil inventories to fall -2.280 million in November. Moving into the first quarter of 2015, freight rates are likely to correct downwards, opening up floating storage opportunities. Overall, this leads to high demand of crude tanker vessels despite lower freight rates.
Storage opportunities
Global oil traders are likely to store crude oil in tankers in 2014 mainly due to widening contango. This makes storage profitable for the first time since the financial crisis in 2008.
Crude tankers such as Tsakos Energy Navigation Ltd. (TNP), Nordic American Tanker Ltd. (NAT), Teekay Tankers Ltd. (TNK), and Frontline Ltd. (FRO) as well as the Guggenheim Shipping ETF (SEA) are likely to benefit with oil traders adopting this market strategy.
Since June, oil prices have plunged nearly 50% due to a global supply glut with the economics for storing crude remaining unfavorable. However, JBC Energy commented that "the current contango on the ICE Brent market would already be sufficient to make floating storage viable based on average 2014 freight rates."
For the first half of 2015, the International Energy Agency expects 300 million barrels of crude to be put into storage globally, including onshore and offshore. This could bump against storage capacity limits in OECD (Organisation for Economic Co-operation and Development) countries.