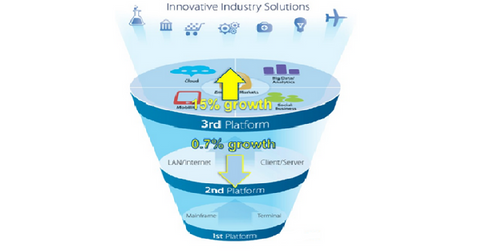 Why the spin-offs of VMware and Pivotal will hamper EMC's growth
By Anne Shields

Updated
Pivotal and VMware are integral part of EMC's expansion
As discussed in the earlier part of the series, although EMC (EMC) owns 80% in VMware (VMW), VMware only contributes 25% to overall revenues. Though Pivotal contributes only ~1% towards EMC's overall revenues, it is of great significance for EMC's standing in the big data space. EMC aims to develop its standing in emerging technologies through Pivotal and VMware.
VMware operates in a high growth space where it continues to lead through developing and releasing new offerings in diverse areas.
EMC estimates the total addressable market for Pivotal will be around $20 billion by 2017. Gartner expects platform as a service (or PaaS) to grow at CAGR (compound annual growth rate) of 30% during 2012 to 2016.
Article continues below advertisement
The Pivotal open platform is ideal for developing and operating new cloud applications that can be run on multiple leading private and public clouds like Amazon (AMZN), Microsoft Azure (MSFT), and Google (GOOG) Compute. Enterprises are thus not restricted to using a specific cloud or specific software platform. Thus, being an open PaaS, Pivotal One would benefit EMC due to the growth expected in this industry.
Pivotal and VMware provide cushion to EMC's shrinking storage business
EMC is reeling under the pressure from its investors to spin off. Though the company is targeting high growth areas through offerings and strategic acquisitions, these acquired companies will take a long time to prove their worth and contribute to EMC's overall growth. Also, apart from high growth, VMware hedges EMC against virtualization and commodity storage. EMC through equity ownership in Pivotal and VMware plans to counter the slow demand in storage in the future.
The interoperability and the unique combination of EMC, VMware (VMW), Pivotal, and RSA Security makes EMC Corp. suited to harness the challenges and opportunities posed by SMAC (social, mobile, analytics and cloud).