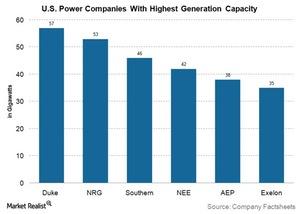 Southern Company, one of the largest U.S. power producers
By Matt Phillips

Updated
Generation capacity of Southern Company
A company's generation capacity refers to the maximum potential amount of electricity a power plant owned by a company can generate. Southern Company (SO) owns a generation capacity of 46 gigawatts (or GW). A watt is the basic unit to measure power. One billion watts makes one GW.
Article continues below advertisement
Southern Company's capacity is third largest in the United States
Duke Energy (DUK) and NRG Energy (NRG) own the first- and second-highest installed capacities in the United States. They own capacities of 57GW and 53GW, respectively.
Southern Company's total generation capacity of 46GW is the third largest in the United States. NextEra Energy (NEE) and American Electric Power Company (AEP) with capacities of 42GW and 38GW, respectively, are the fourth- and the fifth-largest power companies by generation capacity in the United States. All these companies are part of the Utilities Select Sector Standard & Poors depositary receipt (or SPDR) (XLU).
Georgia Power and Alabama Power own more than 65% of Southern Company's total capacity.
Capacity factors
The ratio of actual power output to generation capacity is called a capacity factor. It is an important metric in the power industry as it indicates the operating efficiency of a power company.
For 2014, Southern Company's capacity factor for natural gas-fired power plants is 64%. Southern Company operates with two qualities of coal: coal Powder River Basin (or PRB) and ordinary coal. While the capacity factor for its coal PRB power plants this year is 73%, the capacity factor for its ordinary coal-fired power plants is 44%.