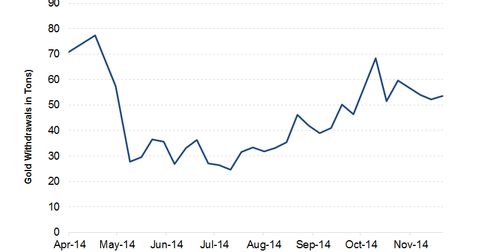 Shanghai gold withdrawals are strong
By Anuradha Garg

Nov. 27 2019, Updated 7:04 p.m. ET
Shanghai Gold Exchange
Chinese gold withdrawals from the Shanghai Gold Exchange (or SGE) are a good indicator of China's physical gold demand. According to many gold experts, it's close to the actual Chinese physical wholesale gold demand.
All the mined and imported gold in China can only be sold through the SGE. By tracking these data, investors can get a good picture of the short-term direction for China's physical gold demand. It also shows the short-term direction for gold prices (GLD). This impacts gold stocks such as Goldcorp Inc. (GG), Barrick Gold Corporation (ABX), and Newmont Mining Corporation (NEM), as well as exchange-traded funds (or ETFs) such as the Gold Miners Index (GDX), which invests in the previously mentioned stocks.
Article continues below advertisement
Tracking SGE withdrawals
The SGE releases these data every week. Year-to-date, 1,814 tons of gold have been withdrawn through the SGE. For the week ending November 21, 2014, 53.5 tons of gold were withdrawn. This indicates a strong physical demand for gold in China. Since the end of August, withdrawals from SGE have been stronger compared to the trend over the first six months of the year. For the third quarter, 480.7 tons have been withdrawn, compared to 387.4 tons in the second quarter.
This means that there's strong physical demand for gold in China. Traditionally, Chinese consumers are known for buying on any dips. They're probably buying again after the recent gold price weakness.