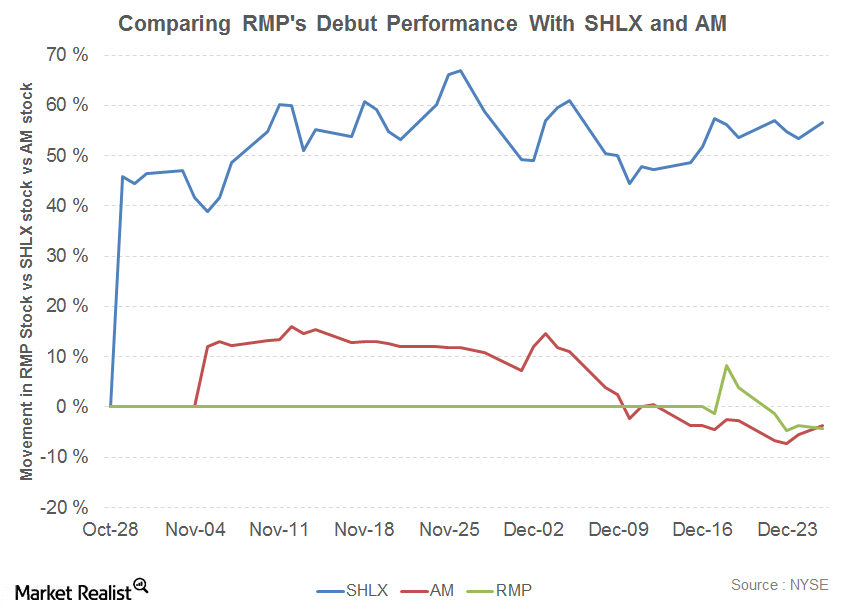 How Rice Midstream compares to Antero and Shell
Rice Midstream vs. Antero vs. Shell
Right before Rice Energy Inc. (RICE) came out with its IPO (initial public offering) to form Rice Midstream Partners LP (RMP), Antero and Shell also spun off their midstream businesses a couple of weeks before to form Antero Midstream (AM) and Shell Midstream (SHLX).
In fact, Antero Midstream (AM) became the largest master limited partnership (or MLP) IPO, raising $1.15 billion and breaking Shell Midstream's record of $1.06 billion.
Read Must-know: A quick look into the Antero Midstream IPO to know more about the Antero IPO.
Rice Midstream Partners is a subsidiary of Rice Energy (RICE), which is a component of several energy ETFs, including the SPDR S&P Oil & Gas Exploration & Production ETF (XOP), the Vanguard Energy ETF (VDE), and the Vanguard Total World Stock Index Fund (VT).
Article continues below advertisement
Rice Midstream's stock reaction compared to Antero's and Shell's
Both Antero Midstream (AM) and Shell Midstream (SHLX) saw positive stock price movement. Both stocks rose significantly, Antero Midstream by 12% and Shell Midstream by 45%. Rice Midstream's stock actually declined by ~1.2%, falling below its IPO price of $16.50 on the first day of trading.
This is because MLPs have started feeling the heat of falling commodity prices, which their upstream counterparts have for some time. We'll discuss this in greater detail in the following part of this series.
What Rice, Antero, and Shell have in common
Rice Midstream, Antero Midstream, and Shell Midstream all have highly focused assets. Antero's assets are focused in the Marcellus and Utica Shale Formations. Rice Midstream's assets are focused mainly in the Marcellus Shale Formation, while Shell Midstream owns crude oil pipelines strategically located along the Texas and Louisiana Gulf Coast and offshore Louisiana and the Gulf of Mexico. Most of these pipelines service Louisiana refineries.
Antero Midstream is dedicated to serving Antero Resources (AR) under long-term, fixed-fee contracts. On the other hand, Shell Midstream and Rice Midstream have multiple customers, although Rice Energy is Rice Midstream's largest customer and a significant revenue source. Rice Energy is also its parent company.
In the following part, we'll discuss why Rice Midstream Partners performed the way it did in spite of its similarities to Antero Midstream and Shell Midstream, whose performances had noteworthy contrasts.