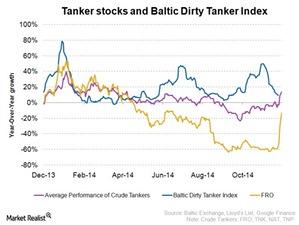 A review of Frontline and its fleet
By Katie Dale

Nov. 27 2019, Updated 7:37 p.m. ET
What is Frontline?
Frontline Ltd. (FRO) is engaged mainly in the ownership or operation of oil tankers used to transport crude oil for oil and oil trading companies. It's owned by Norwegian shipping magnate John Fredriksen, who is also the largest shareholder and chairman of the Bermuda-based company.
Frontline operates oil tankers in the following two sizes: very large crude carriers (or VLCCs) between 200,000 and 320,000 deadweight tonnages (or dwt), and Suezmax tankers between 120,000 and 170,000 dwt.
Article continues below advertisement
Frontline's fleet
Frontline Ltd. (FLO) has 14 Suezmax and 25 VLCC vessels on commercial management through Independent Tankers Corporation Limited (or ITCL). In January 2015, one Suezmax newbuilding vessel is expected to be delivered. The company is committed to make newbuilding installments of $40.9 million  as of November 24, 2014.
Relative performance
Frontline reported its third-quarter earnings on November 25, 2014. In this series, we'll review the company's third-quarter 2014 earnings and its fleet developments. We'll also take a look at Frontline's revenue growth and the reasons for its net loss during the quarter.
Frontline's stock price recorded a 102.1% decline since the time the company reported its earnings until December 3, 2014. Meanwhile, other crude tanker peers such as Teekay Tanker Ltd. (TNK), Nordic American Tanker Ltd. (NAT), Tsakos Energy Navigation Ltd. (TNP), and Navios Maritime Acquisition Corporation (NNA) recorded 23.2%, 3.4%, 4.2%, and 5.9% declines, respectively, in the same period. The Guggenheim Shipping exchange-traded fund (or ETF) (SEA) also dipped 5.7% in the same period.