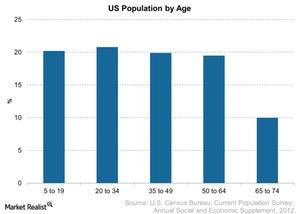 Why restaurants are targeting Millennials
By Adam Jones

Jan. 27 2015, Updated 1:22 p.m. ET
Shifting trends create problems for restaurants
In the last few parts of this series, we saw that fast-casual restaurants are experiencing growth in the United States. On the other hand, the following restaurants are facing a slowdown: fast-food restaurants such as McDonald's (MCD) and Yum! Brands (YUM), casual-dining restaurants such as the Bloomin' Brands (BLMN) and The Cheesecake Factory (CAKE), and family restaurants such as Bob Evans (BOBE) and Denny's (DENN). The exchange-traded fund (or ETF) Consumer Discretionary Select Sector Standard and Poors depositary receipt (or SPDR) (XLY) holds some of these restaurants. Restaurants are increasingly targeting Millennials. Let's look at why this is the case.

Article continues below advertisement
Millennials are taking over
According to an internal memo obtained by Advertising Age, McDonald's admitted that it's struggling to attract the Millennial Generation. According to NPD Group, a consumer market research provider, Millennials are people between the ages of 23 and 36, and there are 59 million of them in the United States. This is about 20% of the U.S. population.
As this population demographic enters the labor force and gets jobs and increased purchasing power, they are highly critical of the restaurant industry. This population is different in the way it thinks about food. According to Chipotle Mexican Grill in its 3Q14 earnings call, management stated that it has found "millennials skipping traditional restaurants for Chipotle."
The company also pointed to its quality of food, which includes meat products from animals that were not fed growth hormones or given antibiotics. It also mentioned the ability for customers to customize their food and that they don't mind paying more for all these benefits.
Traditional restaurants are adapting
Several restaurants are already making changes and moving away from their traditional menu to attract Mellinnials. As we saw earlier, Chili's is focusing on fresh, quality ingredients. McDonald's stated that it believes its customers want to personalize their meals and want locally relevant ingredients. The company will be initiating changes on these two fronts through its program Experience of the Future.
In addition to the above factors that directly affect revenues, a company also needs to focus on costs to ensure a healthy bottom line. Input costs, including the cost of commodities such as beef, chicken, pork, avocados, and dairy products like cheese, were affected toward the late end of 2013 and early 2014. Lets look at this next.