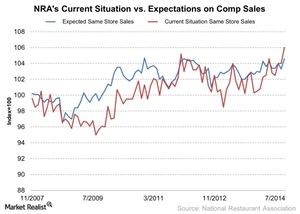 Current Same-Store Sales Rise For Restaurants
By Adam Jones

Aug. 18 2020, Updated 4:43 a.m. ET
Same-store sales
We've learned in our quarterly earnings overview series for restaurant stocks that same-store sales is one of the most important drivers for the revenue of a restaurant. We saw this for restaurant stocks such as Yum! Brands (YUM), Bloomin' Brands (BLMN), Chipotle Mexican Grill (CMG), Brinker International (EAT), and others included in the ETF Consumer Discretionary Select Sector SPDR (XLY),  It helps us determine growth in sales from the existing location.
The NRA's (National Restaurant Association's) monthly survey includes more than 400 restaurant operators in the United States. The chart below shows the current health and expectations about restaurant same-store sales.
Article continues below advertisement
Interpretation
The NRA's current index for same-store sales stood at 106 in October 2014, compared to 104 in September. According to the NRA, 72% of operators reported a gain in same-store sales over this period, and 11% reported a decline. The current situation same-store sales have been above the 100 levels since March 2013, which demonstrates an expansion over a consecutive 20 months.
The restaurant operators' six-month outlook, which is reflected in the Expectations Index, stood at 104.6, up from 103.3 a month ago. Expectations on same-store sales have been above 100 levels for 60 consecutive months. According to the NRA, 52% of operators have a positive expectation about same-store sales over the next six months, which is up from 40% compared to the month of September 2014, and 6% expect to have a same-store sales decline compared to 8% in the month of August 2014.
Higher expectations are a catalyst for initiatives such as increasing capital expenditures to open new restaurants, which we'll discuss next.