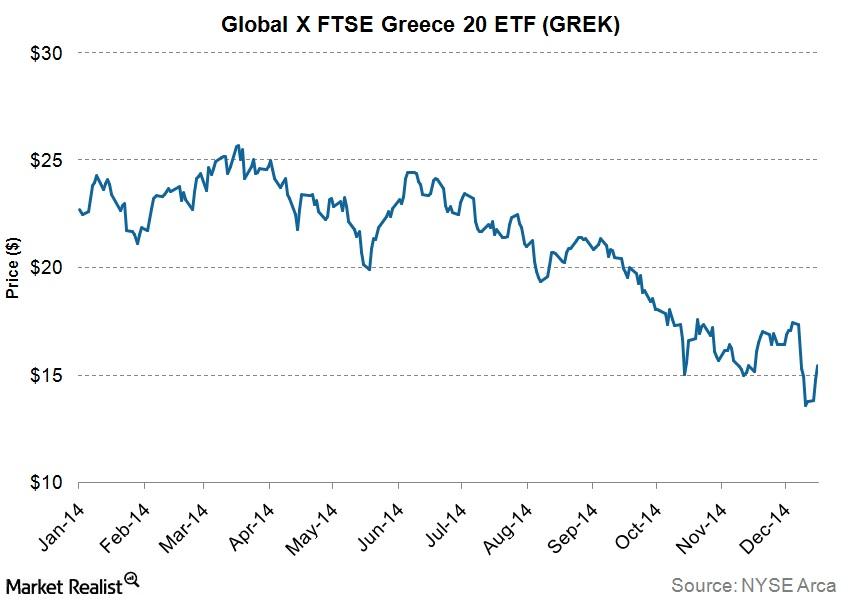 A quick look into the most indebted country in Europe: Greece
By Surbhi Jain

Nov. 20 2020, Updated 2:05 p.m. ET
Greece and stability: Years apart
Over the past couple of years, Greece has seen it all. From the Greek Depressiondowngraded to junk status in April 2010 to being Greek Depressiondowngraded to junk status in April 2010, to being bailed out twice by the European Union (or EU) and the International Monetary Fund (or IMF), to the current unrest caused by its prime minister calling for a snap presidential election. The Greeks are still waiting to see times where the Greece-tracking FTSE Greece 20 ETF (GREK) would display less volatility and perhaps tread north.
Article continues below advertisement
The FTSE Greece 20 ETF (GREK) is an exchange-traded fund that tracks the FTSE/Athex 20 Index. The index, composed of the top 20 companies in Greece, tracks broad-based equity market performance in Greece. The GREK is currently invested in equities of National Bank of Greece (NBG) and Coca-Cola HBC AG (KO), among others.
Greece: Finally out of recession
Greece had fallen into recession as the financial crisis of 2008–09 had hit the US (SPY) (VOO) and the world economy at large. On November 14, 2014, Greece's economy finally registered some growth and emerged from recession. The economy expanded by 1.7% in Q314, compared to 3Q13. Revised GDP figures showed that it had emerged from recession earlier this year, growing for each of the first three quarters by 0.8%, 0.3%, and 0.7%, respectively, on a quarter-on-quarter basis.
Although the financial crisis of 2008–09 impacted the US more severely than Greece, Greece took longer to recover from its recessionary phase—and would take even longer to fully recover from it. The grave situation in Greece is compounded by the overall slowdown in the Euro area and Europe.
Read on to explore several economic problems affecting the economy of Greece.