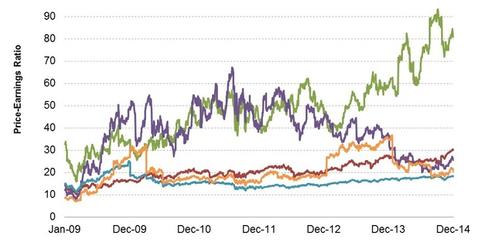 The Pros And Cons Of Owning Under Armour Stock
By Phalguni Soni

Updated
Mapping Under Armour's growth
Under Armour, Inc.'s (UA) growth story has been the focus of this series. Revenues and earnings per share (or EPS) grew at a compound average growth rate of over 30% bewteen 2005 and 2013. The increase in EBITDA (earnings before interest, taxes, depreciation, and amortization) was slightly lower at 28.5%, but still a highly competitive rate of growth.
Under Armour, or UA, also has a solid growth plan in place for the future. Opportunities in both North America and the relatively untouched overseas markets abound, as we saw in Parts 9 to 12 of this series.
Article continues below advertisement
Stock price appreciation leaves peers by the wayside
UA's stock price has increased by over 9x since the start of 2010. Returns to stock investors have also increased steadily, as is apparent from the return on equity trend illustrated in the graph below.
UA stock increased by ~73% over the past 12 months, reaching $69.59 on December 4. That said, it's also way costlier. UA traded at a PE multiple of 81.3x earnings compared to NIKE, Inc.'s (NKE) 30.3x, VF Corporation's (VFC) 25.3x, and Lululemon Athletica Inc.'s (LULU) 25.5x. The S&P 500 Index (SPY) and the Dow Jones Industrial Average (DIA), in comparison, traded at a more sedate 18.4x and 16.0x earnings, respectively.
What do investors need?
While growth and stock price appreciation have been phenomenal, the company has yet to pay any cash out to shareholders by way of dividends and has no intention of doing so in the near term, as we saw in the previous article of this series. Future stock price increases depend on the company's growth drivers, which we covered in Parts 9 to 12, and on how it executes on strategy. Investors looking at a longer-time horizon could benefit from both stock price increases and dividends if and when the company declares them.
But the lack of dividends can also contribute to returns volatility in the near term. For example, returns on Lululemon and Adidas AG (ADDYY) over the last year have been negative due to sharp price declines. So, investors looking for a steady income stream would be better off investing in peers NIKE and VC Corporation. The latter has a relatively higher dividend yield of 1.4% when compared to NIKE's 1.0%, as of November 25. On the other hand, NIKE has increased dividends for 13 consecutive years.