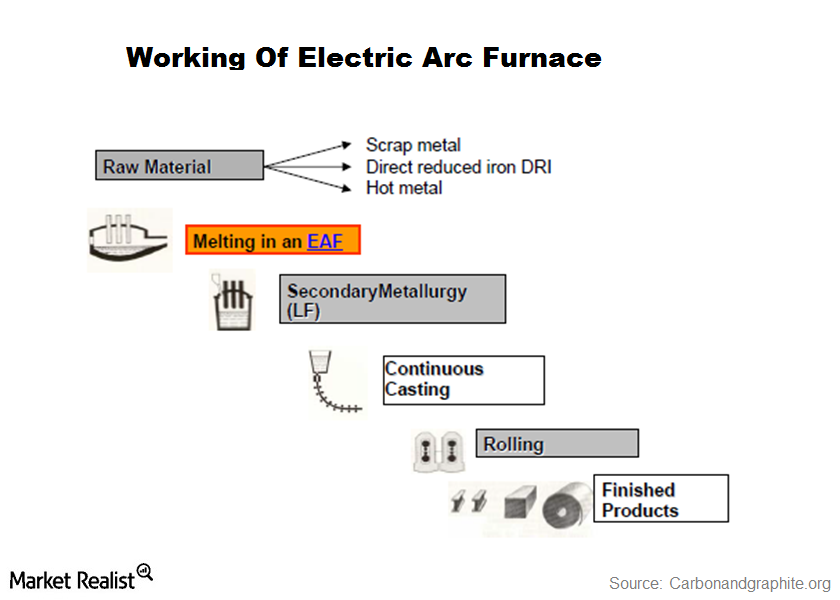 How Production Techniques Impact Steel Companies
By Mohit Oberoi, CFA

Nov. 27 2019, Updated 7:03 p.m. ET
Two steel production processes
There are two basic types of steel production process: blast furnace (or BF) and electric arc furnace (or EAF). The basic difference between these two techniques lies in the raw material used for making steel. While a BF uses iron ore as the key raw material, an EAF largely uses steel scrap for making steel.
Article continues below advertisement
Electric arc furnaces provide operational flexibility
The previous chart shows steel production with an EAF. A blast furnace has high setup costs compared to an EAF. Thus, an EAF gives steel companies operating flexibility. Since the fixed costs associated with BFs are higher, they severely impact the profits for steel companies in downturns. The reasoning is pretty simple. When production goes down, the fixed costs get divided among the lesser number of units. This increases a company's per-unit production costs.
When the capacity utilization rates are low, as they are currently, profitability of steelmakers using blast furnaces comes down. On the other hand, steel companies using EAFs to produce steel generally don't see huge swings in their profits.
Steel production techniques at various steel players
ArcelorMittal (MT) produces only a quarter of its steel through EAFs and the remaining 75% through blast furnaces. Even U.S. Steel Corporation (X) uses mainly blast furnaces to make steel, but the company is now turning to EAFs. You can read more about this strategic shift in the Market Realist article on U.S. Steel's profitability.
Nucor (NUE) and Steel Dynamics (STLD) mainly use EAFs. Currently, both are part of the Standard & Poors depositary receipt (or SPDR) S&P Metals and Mining exchange-traded fund (or ETF) (XME).