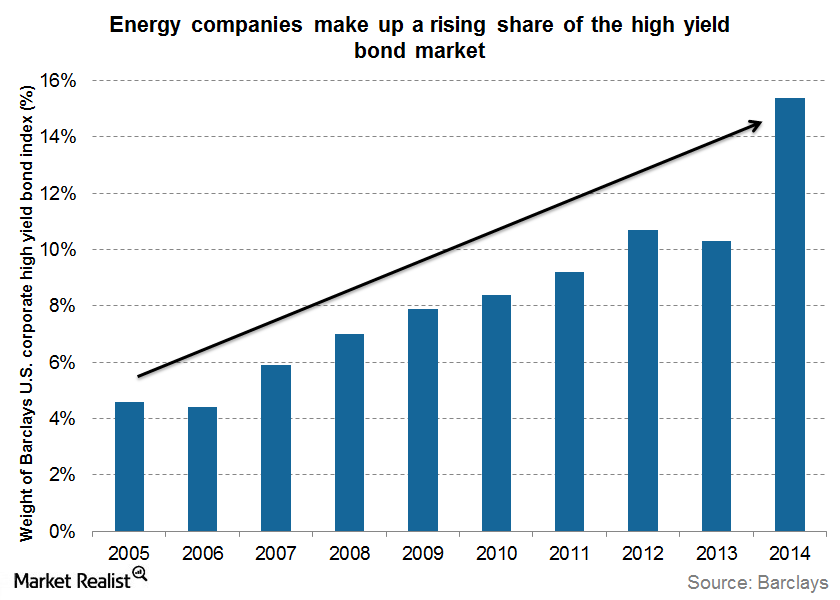 Plunging Oil Causes Turmoil In High Yield Bond Markets
By Jeffrey Rosenberg

Sep. 1 2020, Updated 11:07 a.m. ET
In high yield bonds, for example, significant new investments have been made in shale gas and oil investments. Such growth in investments, fueled by debt and reflected in the significant rise in the energy sector weightings, as well as the number of new issuers, could represent significant sources of future risk. That risk, of course, depends on where oil prices ultimately stabilize.
Market Realist — There is one unexpected loser emerging from the plunging energy price environment (XLE). A lot of turmoil in high yield bond markets (HYG) is happening as a result of the steep slide in oil prices.
Article continues below advertisement
Market Realist — The energy boom in the US has spurred borrowing by energy companies from the high yield market segment. Many fracking companies have issued junk bonds to finance operations. According to Barclays, the energy sector now forms more than 15% of the overall junk bond market, making it the largest sector in the high yield segment . You can see the steep rise in the share of energy sector junk bonds in the corporate bond market in the above graph.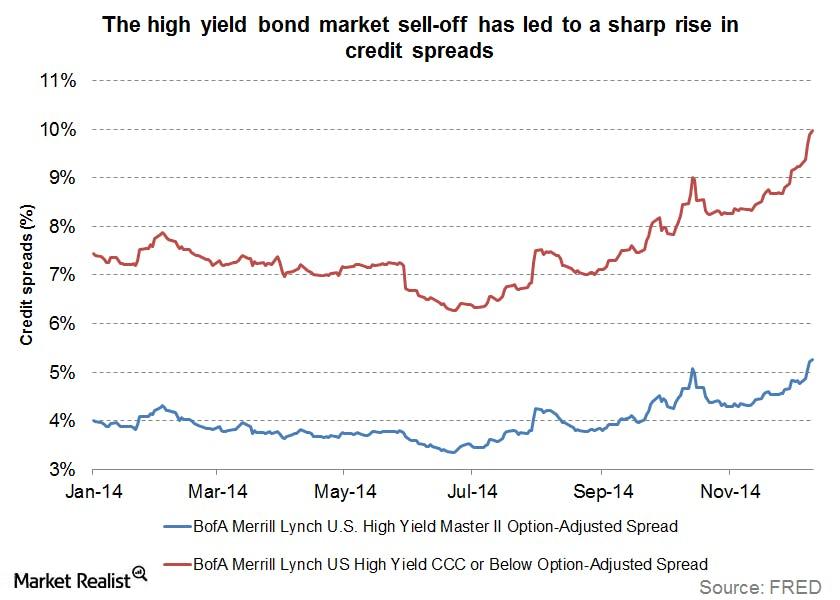 Article continues below advertisement
Market Realist — The recent oil price retreat has shaken the confidence of investors and raised concerns about the creditworthiness of energy junk bond issuers. The turmoil in high yield bond markets has left more than 18% of the segment at distressed levels. Distressed levels indicate that the high yield spreads have climbed to more than 1000 basis points, where 100 basis points equals 1%. According to the Bank of America Merrill Lynch Index, the average yield of CCC-rated bonds rose to as high as 11.64% on Friday, while the spreads increased to 10.28 percentage points. The average yield across the entire high yield market has been pushed up to 7%—a first for 2014. The graph above presents the high yield option adjusted spread against US treasuries for CCC-rated and all high yield market bonds.
In the current macroenvironment, it would make sense to avoid the scary junk bond segment and focus on equity opportunities, especially in Asian equities. India (EPI) and China (FXI) could be good investment opportunities in the emerging market (EEM) segment. US consumer staples (XLP) and consumer discretionary (XLY) sectors could do well as savings at the pump boost spending. All in all, though the oil price collapse has made many losers, there are many winners, too. The oil price shock is not all doom and gloom, and the rout might yet prove to be Santa in disguise for US consumers!
Read our series, Why the bottom fell out of crude oil for more on the implications of plunging oil prices.