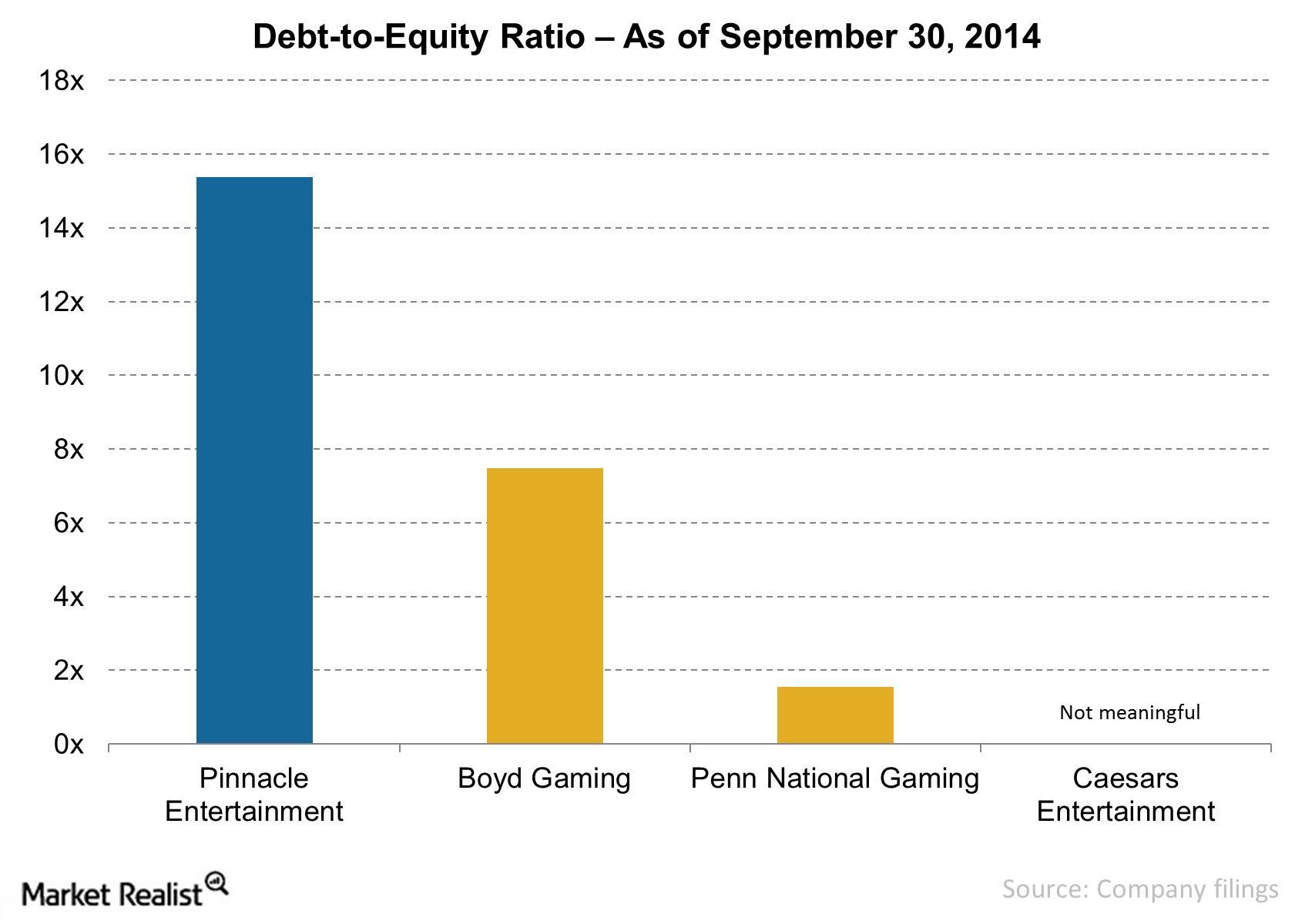 Why Pinnacle's leverage ratio could be a concern for investors
Debt-to-Equity ratio
When a company has a high debt-to-equity ratio, it generally means that the company has been aggressively financing its growth with debt. This could negatively impact earnings as a result of the additional interest expense.
For capital-intensive industries, a debt-to-equity ratio of 2 can be treated as normal.
The chart above shows that Pinnacle Entertainment (PNK) had a massive debt-to-equity ratio of 15.4 as of September 30, 2014. By comparison, PNK's peers Boyd Gaming (BYD) and Penn National Gaming (PENN) had debt-to-equity ratios of 7.5 and 1.5, respectively. This indicates that PNK has been being very aggressive in financing its operations with debt.
The debt-to-equity ratio for Caesars Entertainment (CZR) was not meaningful since its equity value was negative. To learn more, read Why Caesars Entertainment's stockholders' equity is negative.
ETFs like the Consumer Discretionary Select Sector SPDR Fund (XLY) and VanEck Vectors Gaming (BJK) track the performance of leisure companies.

Article continues below advertisement
Debt is cheap, but. . . 
Debt financing is cheaper because the interest on debt is tax-deductible, so PNK could generate more earnings if it were to use a lot of debt to fund increased operations. This could result in earnings greater than the WACC (weighted average cost of capital), thereby benefiting shareholders. However, the WACC might outweigh the return that a company generates through its invested capital, and that could become too much for the company to handle. This could lead to bankruptcy, in which case equity holders might receive nothing.
Let's find out in the next part how effectively PNK employs its debt capital.